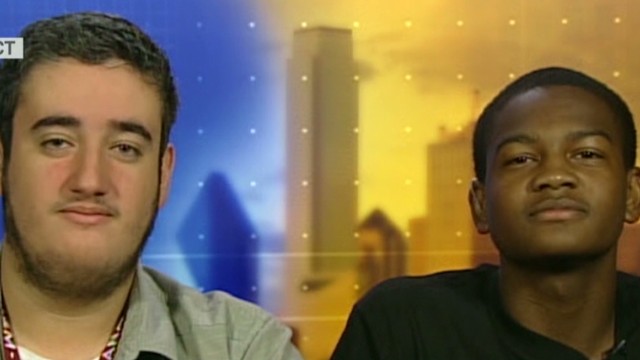 New Day
September 6th, 2013
Teenagers open up about foiling kidnapping plot by reading lips: VIDEO
"New Day" News Anchor Michaela Pereira interviewed teenagers Jamal Harris and Aaron Arias about how they foiled a kidnapping in progress by reading lips. From their car, when they saw the woman frantically banging the windshield of another car as the driver sped off, Harris and Arias followed the vehicle while calling 911. The abductor was eventually arrested by police and the girl was saved and unharmed.
"I looked at the car next to me and I saw a woman in the back seat. But, I mean, the reason that I honestly looked was because she was pretty attractive," Harris said. "As I was trying to explain it to Aaron, I was like, look at her, you know, this lady's pretty beautiful. And I could tell by her facial expressions on what she was trying to tell me, it was very serious. And I paid closer attention. And I could see her mouthing the words, 'help me.'"
"New Day" airs weekday mornings from 6-9 a.m. ET on CNN.