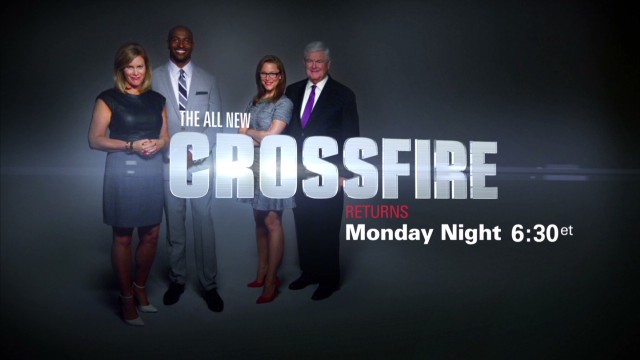 Van Jones
September 3rd, 2013
CNN Moves Up Premieres of 'CROSSFIRE,' 'AC360° Later' to Sept. 9
CNN today confirmed it will accelerate the launch plans for two of its new fall programs, CROSSFIRE and AC360° Later.  In light of rapidly changing events impacting the American response to the Syrian humanitarian crisis, launches for both new shows have been moved forward to premiere on Monday, Sept. 9, 2013, on CNN/U.S.
CROSSFIRE, the 30-minute topical debate program, will air Mondays through Fridays at 6:30pm, with encores at 2:00am on CNN/U.S.  CROSSFIRE will also air each weeknight on CNN International at 11:30pm.  Episodes of AC360° Later, the 60-minute panel discussion program hosted by CNN's Anderson Cooper, will focus on a range of news and pop culture topics with informed guests and correspondents, and will air Mondays through Thursdays on CNN/U.S. and CNN International at 10:00pm.  All times Eastern.
Hosted by S.E. Cupp, Stephanie Cutter, Newt Gingrich, and Van Jones, the network's new edition of CROSSFIRE will reflect the format of the classic program, featuring two of its regular hosts, from different ideological perspectives, to discuss the key news and cultural issues of the day.  A guest with special insights on the topic central to that day's debate will join in the discussion with the hosts, each of whom themselves have special areas of subject expertise.
For more about CNN's CROSSFIRE, please visit: www.CNN.com/Crossfire.
For more about CNN's AC360° Later, please visit: www.CNN.com/360.
About CNN
CNN Worldwide is a portfolio of two dozen news and information services across cable, satellite, radio, wireless devices and the Internet in more than 200 countries and territories worldwide. Domestically, CNN reaches more individuals on television, the web and mobile devices than any other cable TV news organization in the United States; internationally, CNN is the most widely distributed news channel reaching more than 271 million households abroad; and CNN Digital is a top network for online news, mobile news and social media.  Additionally, CNN Newsource is the world's most extensively utilized news service partnering with hundreds of local and international news organizations around the world. CNN is division of Turner Broadcasting System, Inc., a Time Warner Company.
-30-
Contacts:
Jennifer Dargan                Crossfire            jennifer.dargan@turner.com           404.885.4638
Shimrit Sheetrit         AC 360° Later          shimrit.sheetrit@turner.com            310.788.6796