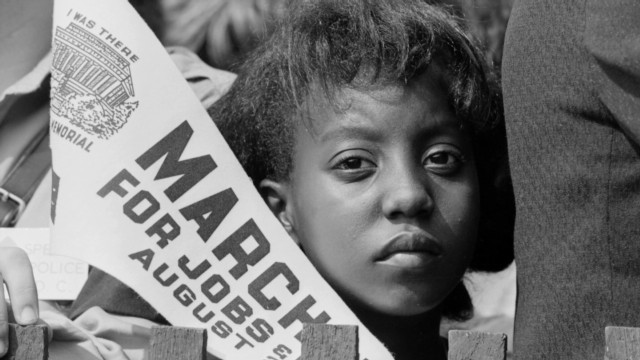 CNN Special Programming & Documentaries
August 23rd, 2013
CNN's Multiplatform Coverage Efforts for 50 Year Anniversary of March on Washington
Special Programming Begins Friday, August 23 with New Oral History Documentary
CNN today announced a multiplatform programming effort for the 50th anniversary of the March on Washington for Jobs and Freedom.  Dynamic enterprise programming will begin on Friday, Aug. 23, and include a new documentary of rare oral histories of the March, opinion editorials authored by key figures in the Civil Rights Movement of the 1950s and 1960s on the legacy of the event, and curated photo galleries that will supplement the network's coverage of the live commemorative activities in the nation's capital.  The network will also carry coverage of President Barack Obama's remarks from the steps of the Lincoln Memorial in Washington, DC, on Wednesday, Aug. 28.
"The March on Washington for Jobs and Freedom was an extraordinary event of immeasurable impact upon the nation – and the world," said Jeff Zucker, president of CNN Worldwide.  "CNN is uniquely positioned to offer multidimensional, enterprise coverage that is both reflective and forward-looking to mark this once-in-a-lifetime anniversary," he said.
For CNN.com/Opinion, civil rights pioneer John D. Due, Jr. has written a moving, first-person recollection of the events leading up to the 1963 March and LZ Granderson has penned an homage to the essential leadership efforts of the March organizer, Bayard Rustin, who as a gay man faced discrimination from both opponents and proponents of civil rights.  Photographer Leonard Freed's iconic images of the event have been curated into a digital visual essay of the March on Washington.  Excerpted video reports and highlights of the original event, and curated iReport submissions from users that explore the current state of everyday racism in America will also be hosted on CNN.com.  A special profile of the daughter of the late civil rights leader, Dr. Martin Luther King, Jr., Bernice King, will be available online beginning Saturday, Aug. 24.
Also on Saturday, Aug. 24, the original "Big Six" civil rights organizations which led the 1963 March on Washington for Jobs and Freedom will gather in Washington, DC, for special events, many of which will be covered on CNN/U.S.  This coverage will include highlights of the "Redeem the Dream Summit" of the National Urban League, including remarks on the modern civil rights agenda by Marc Morial, president of the National Urban League, U.S. Representative John Lewis (D-GA), and others.  CNN correspondent Chris Lawrence will report live from the events on Saturday.
Between Saturday, Aug. 24 and Wednesday, Aug. 28, CNN/U.S. will explore the meaning of the March with exclusive interviews with key civil rights leaders including, Rep. Lewis; Rev. Joseph Lowery; U.S. Representative Eleanor Holmes Norton (D-DC); former U.S. Ambassador Andrew Young; Martin Luther King, III; and more.
CNN will observe the occasion of the 50th anniversary of the March on Wednesday, Aug. 28 with a rare re-broadcast of the remarks by Dr. Martin Luther King, Jr. known as the "I Have a Dream" speech.  The address from five decades ago will air in its entirety.  The day's coverage will be hosted by CNN anchor Don Lemon, with live reporting from correspondents Joe Johns and Athena Jones in the crowds gathered on the National Mall to participate in the events, and commentary from CNN Crossfire host, Van Jones and contributions from CNN's Donna Brazile.
The network's comprehensive anniversary coverage will begin with CNN's new, original documentary, We Were There: The March on Washington – An Oral History, hosted by CNN's Don Lemon on Friday, August 23 at 10:00p.m. and 1:00a.m.  All times Eastern.  We Were There features unique stories from witnesses to the March and people who played vital behind-the-scenes roles organizing the event, on how the extraordinary multicultural event came to be – and its legacy to the progress of American civil rights.  We Were There: The March on Washington – An Oral History will also encore on CNN/U.S. on Sunday, August 25 at 8:00p.m., 11:00p.m., and 2:00a.m.  All times Eastern.
On Thursday, Sept. 12, a special CNN Dialogues live event, "Modern Marchers: Lessons From The Front Lines of Social Change," will be held at the Cecil B. Day Chapel of The Carter Center in Atlanta, GA, from 7:00p.m. to 8:30p.m.  The event is in partnership with the National Center for Civil and Human Rights and the Emory University James Weldon Johnson Institute for the Study of Race and Difference and will be moderated by New Day morning show news anchor, Michaela Pereira.  Panelists for the event, including Michael Skolnik, political director for Russell Simmons and president of GlobalGrind.com, and Minh Dang, executive director of Don't Sell Bodies and a 2013 White House "Champion of Change" will explore current social activism and the agenda and actions needed to improve civil rights for now and beyond.
About CNN
CNN Worldwide is a portfolio of two dozen news and information services across cable, satellite, radio, wireless devices and the Internet in more than 200 countries and territories worldwide. Domestically, CNN reaches more individuals on television, the web and mobile devices than any other cable TV news organization in the United States; internationally, CNN is the most widely distributed news channel reaching more than 271 million households abroad; and CNN Digital is a top network for online news, mobile news and social media. Additionally, CNN Newsource is the world's most extensively utilized news service partnering with hundreds of local and international news organizations around the world. CNN is division of Turner Broadcasting System, Inc., a Time Warner Company.
-30-