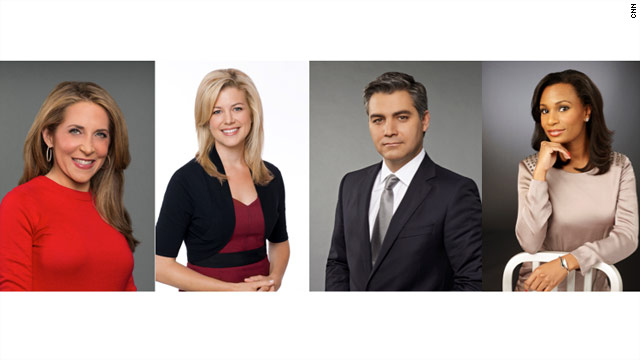 CNN
August 20th, 2013
CNN Announces DC Correspondent Promotions
CNN Names Jessica Yellin Chief Domestic Affairs Correspondent; Promotes Brianna Keilar and Jim Acosta to Sr. White House Correspondents;
Names Rene Marsh to Correspondent
CNN Washington bureau chief and senior vice president Sam Feist announced today that the network is promoting several of its Washington-based correspondents beginning next month. The changes come while the network continues to enhance newsgathering capabilities and on the heels of launching several new programs including The Lead with Jake Tapper, New Day, and announcing the re-launch of Crossfire.
"With these changes, CNN's Washington team of correspondents will be even better positioned to deliver on our core missions of breaking news and enterprise reporting," said Feist. "As CNN continues to grow its newsgathering capabilities, we are thrilled to have such an outstanding group of correspondents to move into these key roles."
The changes include:
Jessica Yellin, who has distinguished herself with exceptional coverage of the Obama administration and the 2008 presidential campaign, will become chief domestic affairs correspondent. In this new assignment, she will report on a wide range of political stories providing analysis and coverage of domestic affairs across the network's programming and digital platforms. Yellin will also serve as a substitute anchor in various positions for the network. During her time as chief White House correspondent she reported a 90-minute documentary with exclusive interviews of President Obama, Secretary of State Clinton, Mrs. Obama, and others during the president's re-election campaign. As a member of the 2008 Peabody Award-winning campaign team, Yellin's reporting was prominent throughout the election year as she traveled throughout the key primary and battleground states.
Brianna Keilar, who has provided strong, comprehensive coverage of the Obama Administration, has been named Sr. White House correspondent. She has been reporting extensively on President Obama and his administration from the nation's capital and from around the world since 2008. Previously, Keilar served as congressional correspondent, responsible for reporting on both the U.S. House and Senate. In that role, she was honored with the National Press Foundation's Everett McKinley Dirksen Award for Distinguished Reporting of Congress for her fall 2008 coverage of the $700 billion bank bailout. Prior to covering Congress, Keilar served as general assignment correspondent for the network, reporting on a wide range of stories, including the 2007 Virginia Tech massacre, where she was the first CNN correspondent on the ground. Keilar will continue to serve as a substitute anchor for programs across the network.
Jim Acosta, who emerged as one of the key reporters on the campaign trail in 2008 and 2012, has been promoted to Sr. White House correspondent. During his six-and-half years with the network, Acosta worked his way up to national political correspondent and served as the network's lead reporter on the 2012 Romney presidential campaign. In addition to breaking significant stories during the election season, Acosta also covered important stories on policy and culture for the network and its digital platforms. In 2009, when the administration lifted some restrictions on American travel to Cuba, Acosta reported from Havana, Cuba, on the effects of the policy change and on the post-Cold War relationship of the U.S. and Cuba. During his new role as Sr. White House correspondent, Acosta will continue to serve as a substitute anchor for the network.
Rene Marsh, who has been reporting for CNN Newsource since early 2012, has been named CNN's new aviation and government regulation correspondent. In her new role, Marsh will focus on all matters related to aviation and transportation—from safety and security to passenger issues, as well as examining how government impacts the lives of all Americans. Marsh comes from CNN Newsource, where she reported for the network as a national correspondent serving more than 800 affiliates. During her time with CNN Newsource, Marsh covered the 2012 presidential election campaign including live coverage from the National Republican Convention in Tampa, Fla. Marsh has traveled throughout the country and covered many breaking news stories including Hurricane Sandy and the Oklahoma tornadoes.
CNN Worldwide, a division of Turner Broadcasting System, Inc., a Time Warner Company, is the most trusted source for news and information. Its reach extends to nine cable and satellite television networks; one private place-based network; two radio networks; wireless devices around the world; CNN Digital Network, the No. 1 network of news Web sites in the United States; CNN Newsource, the world's most extensively-syndicated news service; and strategic international partnerships within both television and the digital media.
-30-