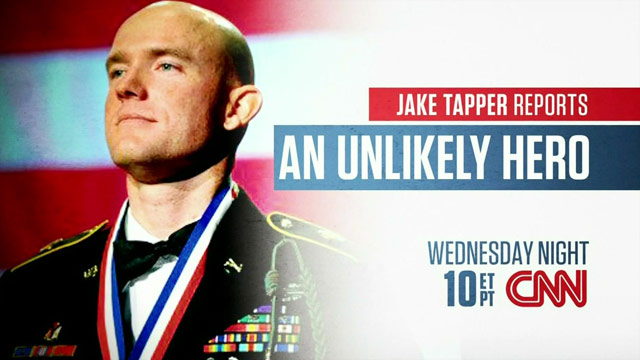 Jake Tapper
August 16th, 2013
Jake Tapper Reports: An Unlikely Hero to Air Aug. 21 at 10pm ET
Just days before President Obama will award Army Staff Sergeant Ty Carter with the Medal of Honor, CNN chief Washington correspondent Jake Tapper's prime time special will feature an interview with Carter in the look back at one the deadliest days in the Afghan war. Jake Tapper Reports: An Unlikely Hero will air Wednesday, Aug. 21 at 10 p.m. ET and PT.
Tapper traveled to Joint Base Lewis-McChord in Washington state for the interview with Carter, whose Medal of Honor for his valorous action during the October 2009 attack on Combat Outpost Keating will mark the first time in nearly fifty years that two living service members are awarded the nation's highest honor for actions during the same battle. In February, President Obama awarded the Medal of Honor to former U.S. Army Staff Sergeant Clint Romesha.
Carter and Romesha were central figures in Tapper's New York Times bestselling book, "The Outpost: An Untold Story of American Valor." The book, which will be published in paperback on October 22, chronicles the troubled history of one of the most remote American military posts in Afghanistan and the eight American service members killed in the October 2009 attack on Combat Outpost Keating. Tapper traveled to Afghanistan twice while reporting the book. For more about Ty Carter's story from "The Outpost" click here.
CNN Worldwide, a division of Turner Broadcasting System, Inc., a Time Warner Company, is the most trusted source for news and information. Its reach extends to nine cable and satellite television networks; one private place-based network; two radio networks; wireless devices around the world; CNN Digital Network, the No. 1 network of news Web sites in the United States; CNN Newsource, the world's most extensively syndicated news service; and strategic international partnerships within both television and the digital media.
 -30-