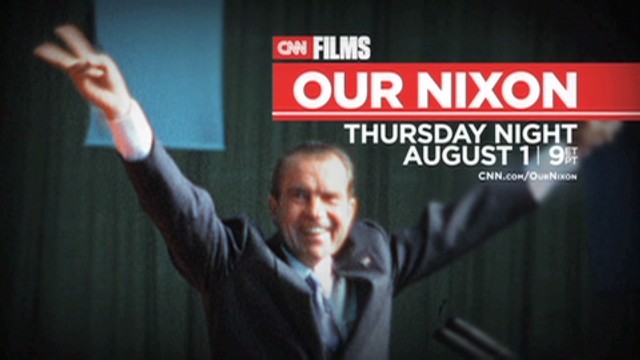 CNN Special Programming & Documentaries
July 25th, 2013
CNN FILMS Broadcast of 'OUR NIXON' Bows Thursday, August 1 – Preview
The CNN FILMS documentary OUR NIXON will broadcast Thursday, August 1 at 9:00pm ET&PT.  The two-hour, all-archival film, which largely draws upon footage shot by ex-President Nixon's closest aides, has received wide acclaim during its exhibition at film festivals in 2013, a year that marks the centennial of Nixon's birth.  Until recently, the films and audiotapes were retained by the National Archives, as part of the Watergate investigation.
Co-producers Brian Frye and Penny Lane curated film from more than 500 reels of re-discovered Super 8 home movies shot by special assistant to the president Dwight Chapin, chief of staff H.R. Haldeman, and domestic affairs adviser John Ehrlichman, to compose the documentary, and audio excerpts culled from nearly 4,000 hours of secret White House tapes.   Through their documentation of both routine and extraordinary moments – including their heady exuberance in the wake of Nixon's election victory in 1968: the inauguration, historic diplomatic missions to China and Europe, the exultant reactions to the moon landing, festive celebrations at the White House, and Trisha Nixon's wedding, multifaceted, comprehensive portraits of each man – and the White House – emerges.
Chapin, Haldeman, and Ehrlichman captured their .  Along the way, an intimate portrait of the inner workings of the White House develops.
Newsreel footage, as well as Nixon's secretly taped phone calls and meetings, also reflect the changing public mood on the war in Vietnam – and the internal roiling of the White House in the wake of the Pentagon papers and the tumult of the Watergate revelations.  Along the way, the relationship of the Nixon Administration to the White House press corps evolved to become more mutually wary, suspicious, and ultimately hostile.
Lane describes the use of archival material to produce the film as "the best way to experience history as it was lived."
In a poignant 1974 statement before cameras in reaction to Watergate, Chapin reflects:
"I don't think that you can take that little piece of history, which may have been the darkest days of Richard Nixon's career, and construct, from that, a mosaic that tells you all about that man."
"OUR NIXON is a wonderful film that invites the audience to re-examine key figures and events surrounding the Nixon presidency and gain a new understanding and fresh perspective of its historic significance," said Amy Entelis, senior vice president for talent and content development for CNN Worldwide.
The film will encore on CNN/U.S. on Sunday, August 4 and Saturday, August 10 at 9:00pm, 12:00am, and 3:00am Eastern.  OUR NIXON will be widely released via Cinedigm in theaters on Friday, August 30.
###