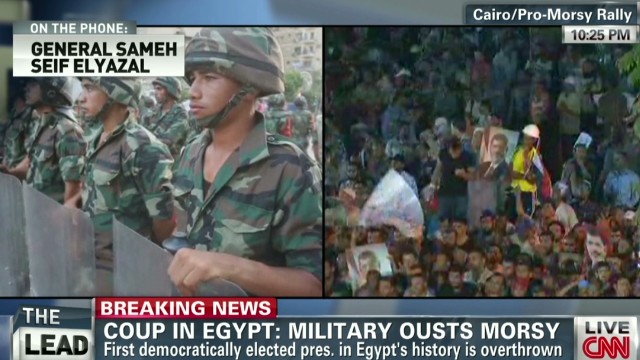 The Lead with Jake Tapper
July 3rd, 2013
Fmr Egyptian military general: It's not a military coup. People wanted that…that's why they're forcing him to step down
On The Lead with Jake Tapper, a former general in the Egyptian military Sameh Seif Elyazal spoke with CNN's Jake Tapper.
Tapper asked Elyazal how he justifies the events in Egypt when Morsy was democratically elected:
"Actually, the story is very, very simple, that 12.5 million people elected Morsi and gave him the votes to be our president.
"Right now, democratically, 33 million people came out in the streets. Some of them definitely give him their votes.  And right now, they said, no, sorry, we cannot pick any more (INAUDIBLE) of that.  You have made big mistakes, and you did lots of mistakes.  Not only that, but you put the country in a jeopardy.
"That's why the same people said enough is enough.  Again, this is democratically.  It's not a military coup.  People wanted that, and that's why they are forcing him to step down."
A full transcript of the program will be posted on http://archives.cnn.com/TRANSCRIPTS.
###