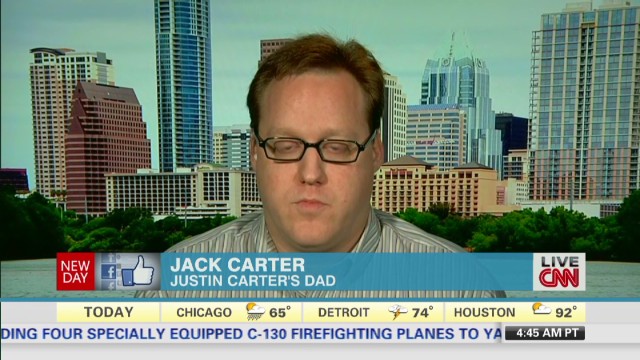 New Day
July 2nd, 2013
Father of teen jailed for Facebook terroristic threat talks to CNN
Justin Carter, the 19-year old teen charged with terroristic threat on Facebook, is on suicide watch after being jailed since February 14th. His father, Jack Carter, joined New Day to defend his son against the charges, while acknowledging that he understood why law enforcement had to investigate. Justin posted violent messages on Facebook, which his family described as sarcastic.
CNN Anchor Kate Bolduan pointed out that after every school shooting, people say that someone must have known something before the tragedy happened and asked Jack if this line of thinking applied to his son. "I definitely see the need to investigate such claims, absolutely," Jack Carter said. "But, at some point during the investigation, there has to be some common sense."
Later in the interview, he added, "He's a good kid. He didn't mean it. It was a joke. And he would never hurt anyone. He's got younger siblings. And he's good with children."
The Carter family secured a law firm that will be working for Justin pro bono, and an online petition seeking his release has received over 33,000 signatures and counting.
New Day airs weekday mornings from 6-9am ET on CNN.