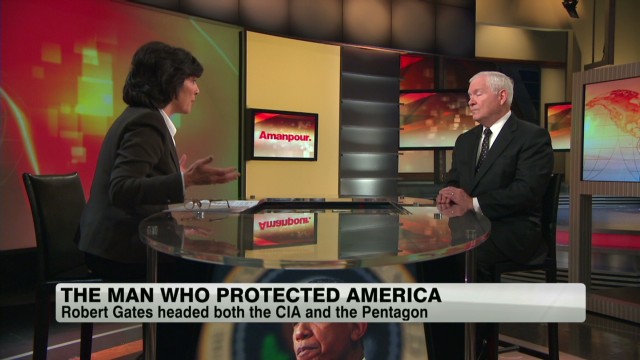 Syria
June 26th, 2013
Fmr Defense Secretary / Fmr CIA Director Robert Gates discusses Syria, Snowden with CNN's Amanpour
Former U.S. Defense Secretary and former CIA Director Robert Gates spoke with CNN's Christiane Amanpour about his view that the U.S. should be very cautious about offering military support for the Syrian rebels trying to topple the Assad regime inside Syria.  Sec. Gates describes that Americans should be prepared for a lengthy association with Syria if the U.S. engages in military aid to rebels in Syria or associating with other nations undergoing revolution, telling Amanpour in his interview:
"In 250 years on the history of revolution, beginning with our own, ours is the only one that actually turned out reasonably well in the early decades.  In every other case, the most radical, the most ruthless, the most violent and the best organized have been the winners in those revolutions, have come out on top."
Gates also spoke about his views on the NSA leaker, Edward Snowden, who is now presumed to be in transit status at a Russian airport:
"Frankly, these are the tools that we use to protect the American people.  You've always had this debate in this country over the proper balance between freedom and security.  But 35 years ago, after the scandals of the CIA, we established these oversight mechanisms that under presidents is different, as Jimmy Carter and Ronald Reagan, Barack Obama and George W. Bush have been continued.

And under Congress' control, both by the Republicans and the Democrats, to override all of those institutional safeguards.  For an individual to take upon himself doing this is a formula for chaos and anarchy."
AMANPOUR airs weekdays on CNN International at 3:00pm and 5:00pm Eastern.  The full transcript for this interview may be found here.
###