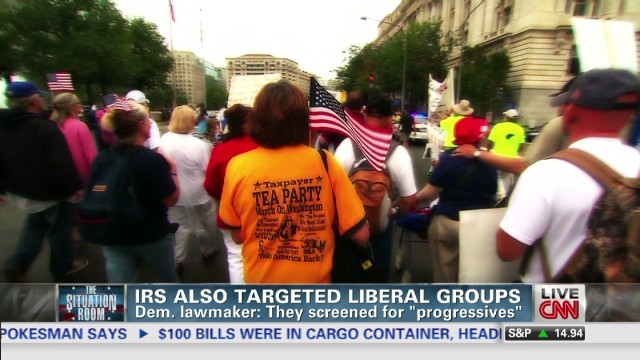 Dana Bash
June 25th, 2013
CNN's Dana Bash asks Rep. Issa, if the IRS targeting was politically motivated
CNN's Dana Bash questions Rep. Darrell Issa (R-CA) about his differing thoughts on the IRS and if the targeting was politically motivated. Bash's interview with Rep. Issa is after the jump.

Please credit: CNN's Dana Bash
Full Transcript of the Interview
THIS IS A RUSH FDCH TRANSCRIPT. THIS COPY MAY NOT BE IN ITS FINAL FORM AND MAY BE UPDATED.
BASH:  An inspector general spokesman responded that he focused on conservatives because that's what the Republican-led committee asked him to do.

As for Republicans, they're pushing back on the notion that progressives were targeted the way Tea Party groups were.

REP. DARRELL ISSA (R-CA), CHAIRMAN, OVERSIGHT AND GOVERNMENT REFORM COMMITTEE:

They continued as usual through the process while conservative groups were stopped in their tracks.

BASH:  But what about the big question, whether IRS targeting was politically motivated?

Darrell Issa says this.

ISSA:  I've never said it came out of the office of the president or his campaign.  What I've said is it comes out of Washington.

BASH:  But then this.

(on camera):  Do you think, based on what you know now, that the White House simply was not involved, that the Obama political team was not involved?

ISSA:  For years, the president bashed the Tea Party groups.  He was very public against these groups.  And on his behalf, perhaps not on his request, on his behalf, the IRS executed a delaying tactic against the very groups that he talked about.

BASH:  But do you have evidence of that based on the interviews that you've done or you're just…

ISSA:  You cannot…

BASH:  — making an assumption?

ISSA:  — Dana, you cannot close a case — you can never close a case on what you don't know.  You can only close a case on what you do know.

(END VIDEO TAPE)

BASH:  Translation — Issa and many of his fellow Republicans are not publicly letting the president and his aides off the hook on this.  They say they're not going to do that until they've finished their investigation.

And GOP sources, Wolf, say that they are just in the opening stages of that investigation.

As for Democrats, they actually say they want to continue this probe, too, of course, not because they think that there was anything political, because they say that they really do worry about IRS mismanagement and they want to fix that troubled agency — Wolf.
###