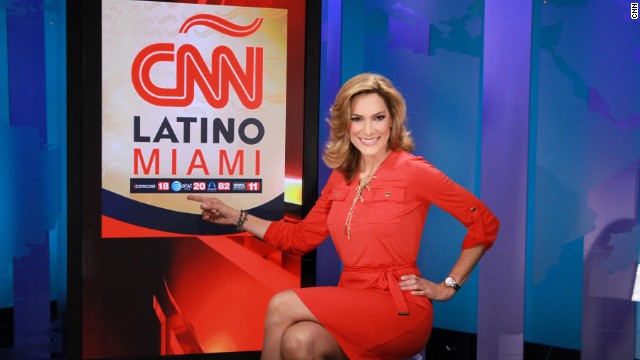 CNN Latino
June 17th, 2013
CNN Latino Launches in Miami
CNN Latino, the Spanish-language programming block, is expanding to Miami, it was announced today by Cynthia Hudson, senior vice president and general manager of CNN en Español and Hispanic Strategy for CNN/U.S. With the addition of Miami to its existing presence in Los Angeles, New York, Orlando, Tampa, Phoenix and Salt Lake City, CNN Latino programming will now be available in markets that represent more than one third of U.S Hispanic homes since its launch in January 2013.
CNN Latino's broad spectrum of programming covering news, lifestyle, documentary, talk and debate represents an alternative to traditional Hispanic networks, and it will now be available in broadcast television on WDFL-Channel 12 in Miami from 3-11 PM (ET) beginning in August. It can also be seen on Comcast Channel 18, on AT&T U-Verse Channel 20, and on Atlantic Broadband Channel 82. 
About WDFL-Channel 12 CNN Latino Miami
The newly appointed President and General Manager for WDFL-Channel 12, Tomas Johansen, will launch and lead the affiliate station.  CNN Latino will be carried by WDFL-LD Channel 12 in the Miami market, which is ranked 3rd in the country as per Nielsen's 2012-2013 Hispanic or Latino TV Homes Universe with an estimated 750,730 Hispanic TV households which represent 5.3% of the total U.S. Hispanic TV homes.
In 2013, MIA TV, LLC; a company led by Luis Perez, Manuel Enriquez, Gerardo Necuze, Judith Prado and Luis Isaias (The Isaias Group also known as TIG), which also operates CNN Latino TV affiliates in New York, Tampa and Orlando; merged WDFL-LD Channel 11 with heritage cable channel Telemiami. Local programming will include a prime time daily talk show "Maria Elvira" hosted by well-known TV news anchor Maria Elvira Salazar and produced by MIA TV.
"We are thrilled to have accomplished such an important affiliation and look forward to delivering CNN Latino's new and dynamic programming to South Florida," said Judith Prado, Vice President of MIA TV, LLC. "We are also excited to offer Maria Elvira to the U.S. Hispanic television audience, which will become a critical way for all of us to receive our daily news."
"I'm pleased to include Miami in our expansion plans since it is critical to the development of a long-term, viable network of affiliates," said Hudson. "I'm also happy CNN Latino Miami will broadcast "Maria Elvira," hosted by Maria Elvira Salazar, a journalist who is known for her unique style, respect and tenacity."
Maria Elvira Salazar returns to the airwaves
Emmy Award winner Maria Elvira Salazar returns to Hispanic broadcast television with a daily prime time show called "Maria Elvira," that will be carried on all CNN Latino east coast affiliates from 8-9 PM (EST).  "Maria Elvira" will be a news magazine show where global news is analyzed in a unique way.  The program's format will allow viewers to enter the world of artists and writers and discuss the challenges for Hispanics living in the United States.
Salazar's career began in 1983 as a general assignment reporter for Channel 23. A year later, she joined Spanish International Network, which later became Univision. During her tenure at Univision, she covered the civil war in El Salvador, as well as the White House and Pentagon. She spent the next twenty years establishing herself as a trustworthy reporter and expert in Latin American affairs.  Salazar hosted her own daily prime-time news show called Maria Elvira Live on Mega TV. Prior to joining Mega TV, she spent nine years at Telemundo News as their main national newscast anchorwoman and senior foreign correspondent.
About CNN en Español:
The CNN en Español business unit is responsible for several multi-media platforms geared toward Spanish-speaking audiences around the world, including CNN en Español 24 hour cable news for Latin America, Mexico and the U.S. in three separate feeds, reaching 31.5 million cable and DTH households throughout Latin America and 4 million households across the U.S., as well as the new CNN Latino broadcast programming block, CNNEspanol.com and CNN en Español Radio, which include affiliate radio stations across Latin America and the U.S. in its partnership with Stardome Radio Networks.CNN Latino is the new Spanish-language programming block custom made for the U.S. broadcast market as an alternative to traditional Hispanic networks, with a broad spectrum of programming, covering news, lifestyle, documentary, talk, debate and more. CNN Latino and its affiliate stations have their own dedicated section on the world-wide Spanish-language news site cnnlatino.com.
XXXXXXX
CNN en Español- CNN Latino Contact:
Isabel Bucaram
PR Manager for CNN en Español US and VIP Planner Producer
601 Brickell Key Drive. Suite 403
Miami-Florida 33131
Direct Line: 305-400-6806
Cell: 786-488-7772
Facebook: Isabel Bucaram
Twitter: @CNNEPrensa @CNNLatino
 MIA TV Contact:
Judith Prado, Vice President
Mia TV, LLC
Telephone: 305-642-7777
Email: JUDYPRADO@aol.com
2920 NW 7th Street
Miami, Florida 33125