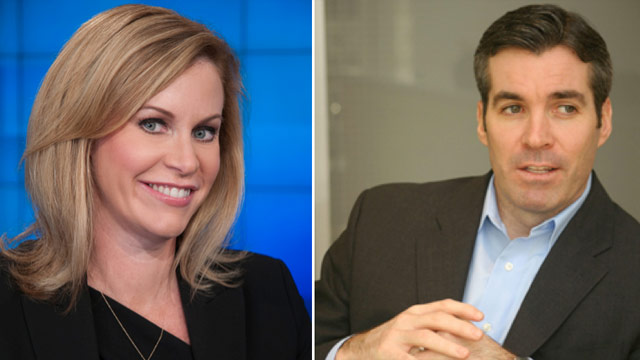 CNN
May 29th, 2013
Cutter, Madden Join CNN as Political Contributors
Democratic strategist Stephanie Cutter and Republican strategist Kevin Madden will join CNN as political commentators, it was announced today by CNN Washington bureau chief and senior vice president Sam Feist. The veteran communications consultants will add their expert analysis to the network's roster of voices and will appear across the network's programming including New Day, the morning show scheduled to launch June 17.
"I've worked with CNN for many years in the White House, on campaigns and throughout government," said Cutter. "They are the best in the business, and I'm thrilled to be joining the CNN team."
"This is such an exciting time in the national conversation about the direction of our country, with so many Americans looking to CNN for an informed perspective of today's political debates," said Madden. "I'm looking forward to bringing my experience of working on national campaigns and Capitol Hill to CNN's coverage of this national conversation."
Cutter is a partner at Precision Strategies, a strategic consulting firm launched earlier this month with three veterans from the Obama 2012 campaign team. Cutter served most recently as the deputy campaign manager for President Obama's re-election campaign, having joined Obama's 2008 campaign as Michelle Obama's chief of staff and senior adviser to then Senator Obama.  Before joining the campaign, Cutter served in the White House as Assistant to the President and Deputy Senior Adviser, and was previously counselor to Treasury Secretary Timothy Geithner. Cutter is also a veteran of Capitol Hill, having worked as a senior adviser to Majority Leader Reid and Senator Edward M. Kennedy.  She is a native of Massachusetts and a graduate of Smith College and Georgetown University Law Center.
Madden is the executive vice president of public affairs at JDA Frontline in Washington, D.C. Previously, he was a managing director for The Glover Park Group. Madden served as adviser for the Republican National Committee and Gov. Romney's presidential campaign during the 2012 election. He also served as national press secretary and senior communications strategist for Romney's 2008 presidential bid. Prior to joining Romney's campaign, Madden was press secretary to then-House Majority Leader Boehner. He is a native of New York and a graduate of State University of New York at Cortland.
CNN Worldwide, a division of Turner Broadcasting System, Inc., a Time Warner Company, is the most trusted source for news and information. Its reach extends to nine cable and satellite television networks; one private place-based network; two radio networks; wireless devices around the world; CNN Digital Network, the No. 1 network of news Web sites in the United States; CNN Newsource, the world's most extensively syndicated news service; and strategic international partnerships within both television and the digital media.