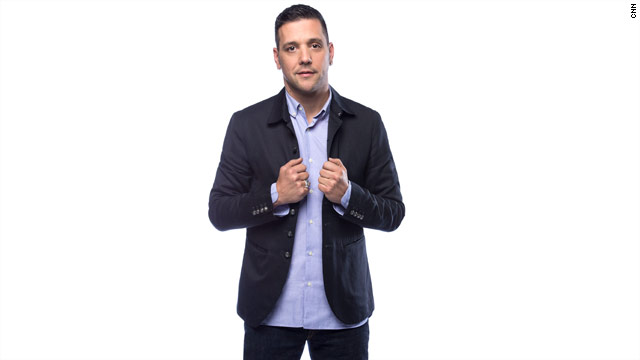 CNN Original Series
May 23rd, 2013
Acclaimed Talk-Show Host George Stroumboulopoulos Joins CNN with New Friday Night Program
Special Premiere of Weekly CNN Talk Show "Stroumboulopoulos" Airs Sunday, June 9th; Series to Air Regularly Fridays at 11pmET Beginning June 14th
CNN welcomes popular Canadian talk show host George Stroumboulopoulos to its Friday lineup. "Stroumboulopoulos" will premiere on Sunday, June 9th at 10pm ET following the season finale of Anthony Bourdain's "Parts Unknown." On June 14th the show will air in its regular timeslot; airing Fridays at 11pm ET. First guests will be rapper Wiz Khalifa, actress Ellen Page and Walking Dead comic book author Robert Kirkman.
The new talk show will explore the worlds of art, pop culture, politics, tech news and sports, through the eyes and the words of their most interesting figures. George Stroumboulopoulos is praised for being a masterful interviewer, whose intimate style keeps guests at ease and audiences intrigued.  "Stroumboulopoulos" is THE show to watch this summer.
"Stroumboulopoulos" will begin its 10 week run and will bring viewers compelling interviews with Keanu Reeves, Martin Short, Betty White, Bill Maher, Sharon Stone, as well as author Eckhardt Tolle, and filmmaker Werner Herzog among others slated to appear on the show.
Viewers can find updates, behind-the-scenes photos, and exclusive content from "Stroumboulopoulos" by following the show's Twitter account @StromboCNN, George's account @Strombo and online at CNN.com/Strombo.
The show is scheduled to re-air Fridays at 2 and 5am ET and on Saturdays at 11pm, 2am and 5am ET. "Stroumboulopoulos" is produced by CNN and Embassy Row, and will tape in front of a live studio audience in Los Angeles. Michael Davies and Michael Sugar serve as executive producers, with Kay O'Connell and Amanda McPhillips as co-executive producers.
Stroumboulopoulos currently hosts George Stroumboulopoulos Tonight, which airs nightly on CBC television, and The Strombo Show, music and talk program which airs weekly on CBC Radio2.  Among his guests were Hillary Clinton, Oprah Winfrey, Bradley Cooper, Naomi Watts, Robert Pattinson, Bono, and Clint Eastwood.
Born and raised in Ontario, Stroumboulopoulos graduated from Humber College in 1993 with a diploma in radio broadcasting.  Stroumboulopoulos' broadcasting career included talk and music radio production, television presenting, and hosting documentaries, and he has been honored eleven times by Canada's prestigious Gemini Award for his television work.  He is also an outspoken advocate for numerous Canadian and international philanthropic humanitarian broadcasts, including Canada for Haiti and One Million Acts of Green, and he is the first Canadian National Ambassador Against Hunger for the United Nations World Food Programme.
Embassy Row is a New York City-based television and digital production company dedicated to developing and acquiring original formats for television networks and online distribution in the U.S. and abroad. The company specializes in the genres of talk, games, competition, comedy, factual, food and sports and is pioneers in the areas of brand and social media integration.  Recent credits include:  Bravo's "Watch What Happens Live," Oxygen's "The Glee Project" and AMC's "The Talking Dead." Embassy Row is a subsidiary of Sony Pictures Television.
CNN Worldwide is a portfolio of two dozen news and information services across cable, satellite, radio, wireless devices and the Internet in more than 200 countries and territories worldwide. Domestically, CNN reaches more individuals on television, the web and mobile devices than any other cable TV news organization in the United States; internationally, CNN is the most widely distributed news channel reaching more than 271 million households abroad; and CNN Digital is a top network for online news, mobile news and social media. Additionally, CNN Newsource is the world's most extensively utilized news service partnering with hundreds of local and international news organizations around the world. CNN is division of Turner Broadcasting System, Inc., a Time Warner Company.