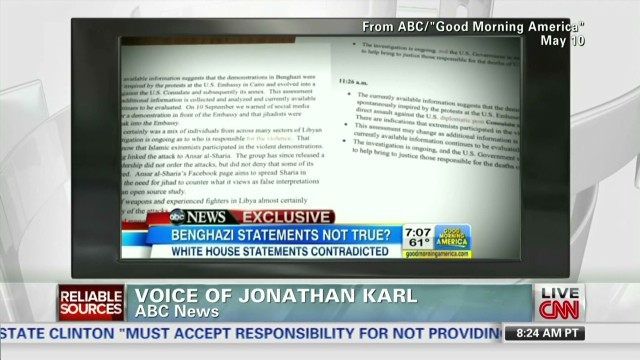 Reliable Sources
May 19th, 2013
ABC News' Jonathan Karl addresses criticism on reporting of the Benghazi talking points controversy
On the Sunday, May 19 edition of CNN's Reliable Sources, host Howard Kurtz read a statement from Jonathan Karl, chief White House Correspondent for ABC News in response to his reporting on altered emails related to the Sunday talk show talking points following the attacks on the U.S. diplomatic mission in Benghazi, Libya in September 2012.   Karl now expresses regret about his original reporting on May 10th on the Benghazi emails.  The statement reads:
"Clearly, I regret the email was quoted incorrectly and I regret that it's become a distraction from the story, which still entirely stands.  I should have been clearer about the attribution.  We updated our story immediately."
-Jonathan Karl, ABC News Chief White House Correspondent
Reliable Sources with Howard Kurtz airs Sundays on CNN at 11:00am Eastern.
###