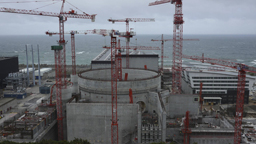 CNN Special Programming & Documentaries
April 30th, 2013
CNN Films Announces Acquisition of 'Pandora's Promise' for Fall 2013 Broadcast
Director Robert Stone's film – to bow theatrically nationwide on June 12 – challenges environmentalists' assumptions on nuclear power
CNN Films has acquired the domestic television rights for PANDORA'S PROMISE, a provocative 2013 Sundance Film Festival selection that explores the potential of nuclear power to combat the worldwide crisis of climate change.  The film will premiere on CNN/U.S. in November 2013, following its U.S. theatrical premiere on June 12, it was announced today.
The atomic bomb and accidents at Chernobyl, Three Mile Island, and Fukushima bring to mind apocalyptic disasters, but the science and experience since suggest that long-held fears about nuclear power may be wrong.  Directed by Academy Award®-nominated Robert Stone, PANDORA'S PROMISE examines how irrational fears of "nukes" may have extended the era of fossil fuels, perilously accelerating the pace of climate change as the global demand for energy, particularly in the developing world, soars to unprecedented levels.  Stone takes his camera inside the exclusion zone around Fukushima, and even ventures inside the notorious Chernobyl nuclear power plant.
Stone tells the intensely personal stories of environmentalists and energy experts who have undergone profound conversions from being passionately against, to strongly favoring nuclear energy – putting their careers and reputations on the line in the process.  Through the voices of Stewart Brand, Gwyneth Cravens, Mark Lynas, Richard Rhodes, and Michael Shellenberger, Stone exposes this rift within the environmental movement as they describe their individual journeys of defection.  Also included are interviews with two pioneering engineers of next generation nuclear reactors.
"PANDORA'S PROMISE should inspire broad discussion on the fundamental issues of economic and social disparities and environmental risks," said Amy Entelis, senior vice president for talent and content development for CNN Worldwide.  "This is precisely the type of challenging debate we had hoped for when we conceived the mission for CNN Films," Entelis said.
"I made this film in order to illuminate what I see as the 'elephant in the room' when it comes to the ongoing debate about how to tackle climate change," Stone said.  "We have a moral imperative to lift billions of people out of poverty, while at the same time dramatically reducing CO2 emissions.  How to do that is the central issue of our time and that led me to take a second look at nuclear energy," Stone said.
"Robert approaches this issue with a journalist's sensibilities," said Vinnie Malhotra, senior vice president of development and acquisitions for CNN Worldwide.  "He reports the history and how we got here, spotlights the challenges, and systematically debunks the myths and misinformation that have so clouded this essential debate – before this important film," Malhotra said.
Undaunted and independent, PANDORA'S PROMISE is a groundbreaking work that is forever changing the conversation about the myths and science behind the deeply emotional and polarizing issue of nuclear power.
The deal was negotiated by Dan Cogan of Impact Partners and Andrew Herwitz, president of the Film Sales Company on behalf of the filmmakers.
IMAGES
Mark Lynas in a scene from PANDORA'S PROMISE. Image credit: Courtesy of Howard Shack for CNN. http://i2.cdn.turner.com/cnn/2013/images/04/30/pandoraspromise1.jpg
The Fukushima Daiichi nuclear plant in a scene from PANDORA'S PROMISE. Image credit: Courtesy of Robert Stone for CNN http://i2.cdn.turner.com/cnn/2013/images/04/30/pandoraspromise3.jpg
About CNN Films
CNN Films brings documentaries beyond the small screen by developing strategic partnerships to leverage distribution opportunities at film festivals and in theaters.  Amy Entelis, senior vice president of talent and content development for CNN Worldwide, and Vinnie Malhotra, senior vice president of development and acquisitions for CNN Worldwide, oversee the acquisition strategy of documentaries for CNN Films.  Malhotra manages the day-to-day operation of CNN Films, and works directly with filmmakers to develop original projects.
CNN Worldwide is a portfolio of two dozen news and information services across cable, satellite, radio, wireless devices and the Internet in more than 200 countries and territories worldwide. Domestically, CNN reaches more individuals on television, the web and mobile devices than any other cable TV news organization in the United States; internationally, CNN is the most widely distributed news channel reaching more than 271 million households abroad; and CNN Digital is a top network for online news, mobile news and social media. Additionally, CNN Newsource is the world's most extensively utilized news service partnering with hundreds of local and international news organizations around the world. CNN is division of Turner Broadcasting System, Inc., a Time Warner Company.
-30-