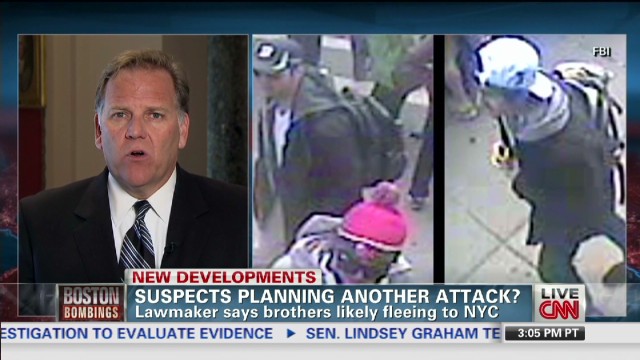 CNN
April 25th, 2013
Rep. Mike Rogers to CNN's Wolf Blitzer: "I argue we could save ourselves a lot of time if we can get the Russians to cooperate fully."
Today on CNN's The Situation Room with Wolf Blitzer, Rep. Mike Rogers (R-MI) spoke with Blitzer about the latest in the Boston bombings case. A full transcript from this interview will be posted on http://archives.cnn.com/TRANSCRIPTS/sitroom.html; highlights are below.
Highlights from Full Interview:
THIS IS A RUSH FDCH TRANSCRIPT. IT MAY NOT BE IN ITS FINAL FORM AND MAY BE UPDATED.
Rep. Rogers on additional bombings by the suspects, "They had actually built the devices, and not used them.  But from the investigators I've been talking to, they believe it was going to be probably more likely in the Boston area.  They really did believe they weren't going to get caught.  The notion that they decided to go to New York was a rushed event after this thing unraveled on them."
On the Russian govt.,"And, again, a big part of this is what happened in those six months.  The Russian government is not quite cooperating yet, Wolf, to the extent that I think is appropriate…So they cooperated a little.  They didn't cooperate enough.  I believe they have information that is valuable to our investigation here… "
On the public safety exception to Mirandizing, "That is highly unusual for a judge to intervene so hastily, and make the decision not based on the facts of the interviews, and the public safety exception, but what they perceived was happening based on what they saw on television. It's dangerous.  It's precedent-setting that I think we need to change and correct right away."