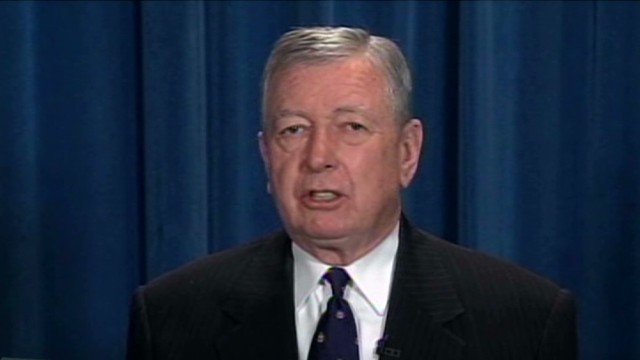 Jake Tapper
April 22nd, 2013
Fmr Attny General John Ashcroft to CNN's Jake Tapper: "I would be particularly concerned about someone who visited an area like Chechnya…"
Former Attorney General John Ashcroft spoke with CNN's Jake Tapper today about the prior FBI investigation of the Boston bombing suspect. Ashcroft also spoke with Tapper about the actions he would take as an acting attorney general. This interview will air today during the 4 p.m. ET hour on The Lead with Jake Tapper. A highlight is below and a full transcript of the program will be posted on http://archives.cnn.com/TRANSCRIPTS.
Highlight from Interview: Please credit all usage to CNN's The Lead with Jake Tapper
THIS IS A RUSH FDCH TRANSCRIPT. THIS COPY MAY NOT BE IN ITS FINAL FORM AND MAY BE UPDATED.
JAKE TAPPER, CNN HOST:  Attorney General Ashcroft, thanks so much for joining us today.  If you were attorney general right now, would you be recommending that Dzhokhar Tsarnaev be tried as an enemy combatant?
Or are criminal courts also OK with you?
JOHN ASHCROFT, FORMER GOVERNOR OF MISSOURI, ATTORNEY GENERAL IN THE GEORGE W. BUSH ADMINISTRATION:  Yes, the answer to that question is yes.
Fortunately, there is a mountain of evidence that would support either a state charge or a federal charge in the Article III courts, being the traditional criminal jurisdiction courts.  And the evidence is so substantial that it probably doesn't matter whether or not anything he would say now to interrogators would be used against him.
He's already the focus of so much hard evidence that the business about Miranda warnings is probably a tempest in a teapot here.
—
TAPPER:  In 2011, the FBI was informed by the Russian FSB, the successor organization to the KGB, that they were concerned about the older brother.  The FBI says they looked into his communications; they interviewed him.  They didn't find there to be anything that would pose a threat to public safety.
And then the older brother went to Russia, we presume to Chechnya and Dagestan according to anecdotal accounts; came back.
Should the FBI have re-interviewed him after he came back?
ASHCROFT:  Well, it's clear to me that the FBI in the first instance must have responded to whatever foreign tipoff we got, because the FBI said that it conducted interviews.  And I'm not in a position to know what was said in those interviews or to understand why the matter was not maintained at a pretty high level of awareness.  I can't say that.
But they took the matter seriously when it first came up.  And obviously there was a very serious concern that we can see in retrospect.
And I would be particularly concerned about someone who visited an area like Chechnya, if that's, in fact, what happened, especially in the light of the fact that Chechen individuals have been involved in the war on terror pretty regularly against the United States and its operations overseas.
###