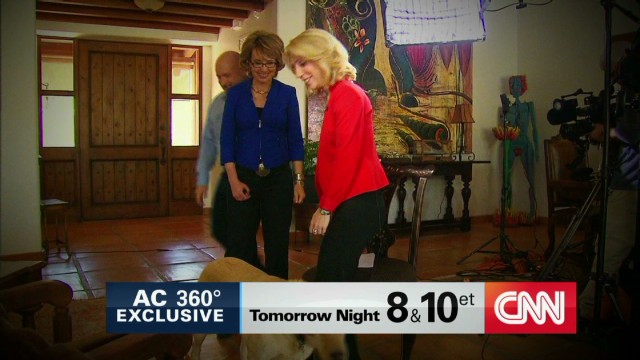 CNN
April 8th, 2013
Guns Under Fire: A CNN Special Report on Background Checks
If 90 Percent of Americans Support New Background Checks, How Can Congress Do Nothing?

Highlights include Dana Bash's Exclusive Interview with Gabby Giffords and Mark Kelly
According to the latest polls, 9 out of 10 Americans support tougher background checks, so how is it that Congress can do nothing? CNN takes an in-depth look at the national conversation and the debate over new background checks with Guns Under Fire: A CNN Special Report on Background Checks. The special reports will begin on Tuesday, April 9 with Anderson Cooper 360º live from Washington and will continue across network platforms and programs on Wednesday, April 10.
CNN chief congressional correspondent Dana Bash sat down with former congresswoman Gabby Giffords and her husband Mark Kelly for an exclusive television interview, the first from inside their home in Tucson, Arizona. Bash will take viewers behind the scenes for a look at what Giffords' life is like now, her road to recovery and the couple's work on their newly formed gun-control organization. The interview will air on Tuesday, April 9 during Anderson Cooper 360º at 8 p.m. ET. In addition, Piers Morgan and Wolf Blitzer will focus on the impact background checks could play in reducing gun violence in their respective programs.
On Wednesday, CNN will unveil special reports to provide viewers with a comprehensive look at gun violence and the proposed legislation, including:
•    National political correspondent Jim Acosta caught up with Sen. Mary Landrieu (D-LA) to see how the politics of guns plays in her home state of Louisiana. Landrieu is undecided on background checks and faces a tough reelection battle in her state.
•    Chief political analyst Gloria Borger will provide analysis of politics and polling data of background checks.
•    Anchor Candy Crowley will write an essay for CNN.com: Are we moving toward federal gun registry?
•    Anchor Chris Cuomo will walk viewers through the purchase of a gun and how pending legislation could change the purchase process.
•    Correspondent Tom Foreman will breakdown the impact money plays in the issue of gun violence from the National Rifle Association to financing by New York Mayor Michael Bloomberg.
•    Crime and Justice correspondent Joe Johns will analyze the proposed legislation and whether it would have prevented tragedies in Newtown, Tucson, Aurora and Virginia Tech.
•    Chief national correspondent John King will use the magic wall to illustrate how regional constituency could impact passage of background checks.
•    Anchor and chief Washington correspondent Jake Tapper reports on why enforcing the existing gun laws is easier said than done: http://on.cnn.com/10FNZ1h
•    CNN's Nick Valencia will profile Los Angeles police officers, school principals and mental health experts tasked to keep tabs on teens who have proposed threats of shooting rampages.
•    Chief White House correspondent Jessica Yellin will focus on the political capital of the Obama administration and if the president is able to move background check legislation through congress.
•    CNNPolitics.com will feature these reports and more, including an explainer and timeline on background checks and the legislation being drafted in congress.
An exclusive bipartisan CNN/ ORC International poll on background checks, federal gun registry and other key issues will be released Wednesday.
CNN Worldwide, a division of Turner Broadcasting System, Inc., a Time Warner Company, is the most trusted source for news and information. Its reach extends to nine cable and satellite television networks; one private place-based network; two radio networks; wireless devices around the world; CNN Digital Network, the No. 1 network of news Web sites in the United States; CNN Newsource, the world's most extensively syndicated news service; and strategic international partnerships within both television and the digital media.
ALL TIMES EASTERN
-30-
CONTACT:
Jennifer Scoggins            Washington D.C.        202.515.2947    jennifer.scoggins@cnn.com