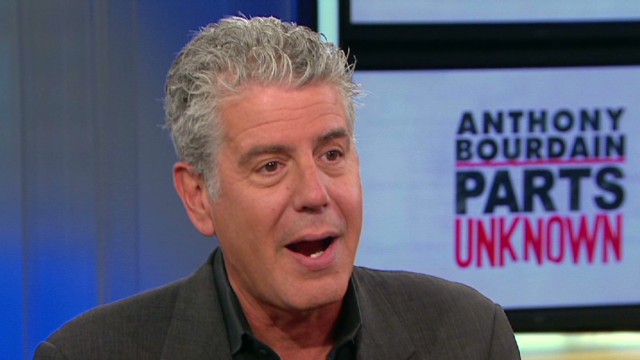 Parts Unknown
April 8th, 2013
Bourdain: With CNN, I get to go to all the places that I never would have been able to go with any other network
Anthony Bourdain, world-renowned chef and best-selling author appeared on CNN's Starting Point this morning to talk about what will be different about this show compared to his previous travel show.
"With CNN, I get to go to all the places that I never would have been able to go really with any other network," Bourdain says. "Places like Congo, Libya, Myanmar, would have been very, very tricky to do elsewhere. Able to go places I never would have been able to go and look at these cultures in either a bigger picture or a more narrow focus as I choose."
Bourdain also previews his first episode in Myanmar and details what was fascinating about shooting there. "For me, it's an enormous and beautiful country that very, very few Westerners have seen or visited. It's been closed off from the rest of the world – a pariah state – for as long as I've been alive. Until just a little over a year ago, a Western film crew, if discovered, would have been kicked out of the country. We're really one of the first crews to have gone in and really shown a big slice, not all, but a big slice of a country that a lot of people haven't seen. It is incredibly gorgeous."
Anthony Bourdain: Parts Unknown premieres on CNN, Sunday, April. 14th at 9pm Eastern.