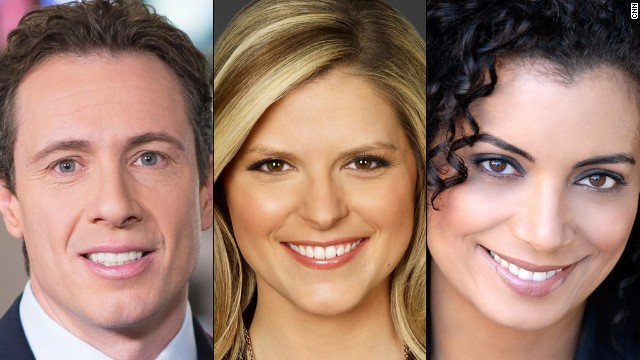 Michaela Pereira
March 28th, 2013
CNN Morning Show Announcement
Chris Cuomo and Kate Bolduan to Host CNN's New Morning Show
Michaela Pereira Joins as News Anchor
Jim Murphy to Oversee as Senior Executive Producer; Matt Frucci Named Executive Producer
CNN announced today that Chris Cuomo and Kate Bolduan will co-host the network's new morning show, which will premiere this spring. Michaela Pereira will join CNN from KTLA Morning News in Los Angeles, as the program's news anchor. News executive Jim Murphy will oversee the program as senior executive producer, and Matt Frucci will serve as executive producer. The show will be broadcast from CNN's New York City studios.
"I've been looking forward to this announcement since I first joined CNN," said President of CNN Worldwide Jeff Zucker. "Chris, Kate and Michaela are a dynamic team that will give our viewers in America a new way to start their day. We were floored with excitement when we saw Chris and Kate together on screen, and by adding Michaela to the mix we feel we have something very special. We believe there is an opening to do news in the morning with a fresh, new voice."
Cuomo joined CNN in January from ABC, where his roles ranged from 20/20 co-anchor, ABC News chief law and justice correspondent and Good Morning America news anchor. In the first two months at CNN, he has led CNN's breaking news coverage from the papal conclave in Rome to the State of the Union address in Washington. Bolduan joined CNN in 2007, and is co-anchor of The Situation Room with Wolf Blitzer. Bolduan also serves as one of the network's Congressional correspondents. Pereira comes from the top-rated and award-winning KTLA Morning News.
"This has been a rare pleasure for me," Cuomo said. "Meeting Kate and Michaela on screen and off, I knew right away that this is my TV family."
"It is a huge opportunity to work on this new show," said Bolduan. "Knowing that we have the resources of some of the most experienced executives in the business, the backing of a brand like CNN, and to be able to sit alongside such great people as Chris and Michaela – I can't think of a better combination."
"I couldn't be more excited to join the CNN family and have the opportunity to be part of a brand new morning team," Pereira said. "As a veteran of morning television being part of this new endeavor is a dream come true."
Murphy joined CNN to oversee all morning programming for the network. Frucci will lead the daily direction of the morning show with Cuomo, Bolduan and Pereira.
"We have an all-star team in place," said Murphy. "I love morning television, and this is a unique opportunity to create something entirely original. The opportunities are limitless – and that is exactly how we will approach the broadcast."
Since February, Cuomo has led breaking news and special event coverage for CNN during the papal resignation and conclave, the manhunt for Christopher Dorner, the 2013 Presidential Inauguration and the 2013 State of the Union address. In addition, he has interviewed House Minority Leader Nancy Pelosi and Cardinal Timothy Dolan. Prior to joining CNN, Cuomo was co-anchor of the Emmy Award-winning ABC News newsmagazine 20/20 and chief law and justice correspondent for ABC News. From September 2006 until December 2009, Cuomo was the news anchor for Good Morning America, and covered every major story at home and abroad during that time. He has been honored with numerous industry accolades for his investigative reporting including multiple Emmy nominations and awards, a Polk, Peabody Awards, two Edward R. Murrows, a Loeb and the American Bar Association Silver Gavel Award.
Bolduan has co-anchored The Situation Room with Wolf Blitzer since last year and contributed to America's Choice 2012. She also serves as one of CNN's congressional correspondents, covering the activities of the U.S. House and Senate. As a member of the Capitol Hill unit, Bolduan reported on the negotiations to increase the federal debt limit and the super committee deliberations. Prior to this role, Bolduan was a general assignment correspondent. She joined CNN in 2007 as a national correspondent for CNN Newsource, providing breaking news coverage and feature reports for more than 800 CNN Newsource affiliates. Before joining CNN, Bolduan was a general assignment reporter for WTVD-TV in Raleigh, N.C.
For nine years, Pereira has been the co-host of KTLA Morning News, Los Angeles' number one rated morning newscast. During this time, this program has won ten Emmy Awards for "Best Regularly Scheduled Daily News" and three for KTLA's live coverage of the Rose Parade. In addition, Pereira has been awarded with three Radio & TV News Association Golden Mike Awards: in 2006 for live coverage of a news story, "Urban Farm Eviction," and the Best Daytime News Broadcast in both 2004 and 2006. She was also honored with two Mark Twain Awards in 2004: "Best Live Coverage of a News Event, Hostage Standoff Mexican Consulate," and the "Best 60 Minute Broadcast: KTLA Morning News." Prior to KTLA, she hosted programs for TechTV, ZDTV and Canada's CHEK-TV.
Senior Executive Producer Murphy returns to morning TV after more than nine years of leading top national morning television programs. He served as senior executive producer of Good Morning America on ABC (2006-2011). At CBS News, he served as executive producer of the CBS Evening News (2000-2006) and as the executive producer of CBS This Morning (1994-1997). Prior he worked on local TV news programs in New York as the producer of the main newscasts at both WCBS-TV and WABC-TV. In syndicated entertainment programming, he was the supervising producer and director of Siskel & Ebert (1988-1993) and an executive producer at Anderson, the daily talk show (2011-2012). He has been awarded ten News and Documentary Emmys for his work at CBS and ABC.
Matt Frucci joined CNN in October 2012 as the executive producer of program development. In that role he helped develop and launch new shows for CNN, including The Lead with Jake Tapper. Prior to joining CNN, he spent nearly 12 years at ABC News. Most recently he was the senior broadcast producer in charge of the weekend edition of Good Morning America.
CNN Worldwide, a division of Turner Broadcasting System, Inc., a Time Warner Company, is the most trusted source for news and information. Its reach extends to nine cable and satellite television networks; one private place-based network; two radio networks; wireless devices around the world; CNN Digital Network, the No. 1 network of news Web sites in the United States; CNN Newsource, the world's most extensively syndicated news service; and strategic international partnerships within both television and the digital media.