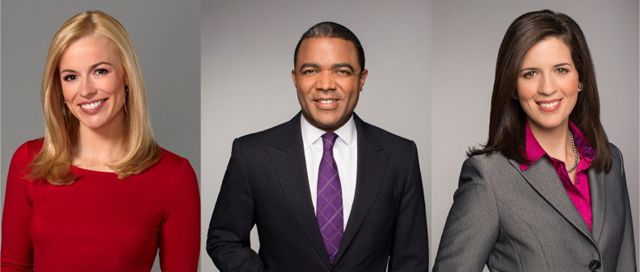 George Howell
March 18th, 2013
Pamela Brown, George Howell, Alina Machado Join CNN
Pamela Brown, George Howell and Alina Machado have joined CNN as correspondents, the network  announced today.  Brown will report primarily for CNN's new morning program and will be based in New York. Howell will report for the network and will be based out of Chicago. Machado will report for CNN, CNN en Español and CNN Latino, and will be based in Atlanta.
"Pam is an outstanding reporter who made her mark in Washington, D.C. with exceptional coverage of domestic breaking news and enterprise reporting. The passion in her work is evident and we are so happy to have her join the CNN team," said Ken Jautz, executive vice president of CNN/U.S.
"George and Alina are multi-talented, and their passion for getting to the crux of the story comes through in their award-winning journalism," said Tony Maddox, executive vice president and managing director of CNN International.

Brown comes to CNN from ABC-TV affiliate WJLA-TV and NewsChannel 8, in Washington, D.C., where she most recently served as Sunday evening anchor and special projects reporter. During her six years at WJLA-TV, she has anchored breaking news and continuous coverage of several high profile events, including Hurricane Sandy, a metro train derailment and the historic blizzard of 2010. She traveled to Haiti to cover the devastating earthquake within a few days of the event, and later returned to report on the rebuilding process. Prior to her work at WJLA-TV, Brown was a reporter at Carolina Week, in Chapel Hill, N.C.
Howell joins CNN after reporting extensively for the network on the shooting death of Trayvon Martin, in addition to covering breaking news and substitute anchoring.  Previously, he was a reporter for ABC-TV affiliate WSB-TV 2 in Atlanta, Georgia, and for CBS-TV affiliate KIRO-TV 7 and ABC-TV affiliate KOMO-TV 4 in Seattle, Washington, where he covered the eruption of Mount St. Helen.  In Austin, Texas, he covered the crime and police beat for NBC-TV affiliate KXAN 36.  He was honored by the Atlanta Association of Black Journalists in 2012 for hard news reporting, and he has earned several Emmy nominations throughout his career.
Machado also comes to CNN from the ABC-TV affiliate WSB-TV2 in Atlanta, and previously from ABC 11 – WTVD in Raleigh, North Carolina, where she covered John Edwards' campaign finance fraud case and the deadly tornado outbreak in 2011 that damaged downtown Raleigh.  While in Milwaukee, Wisconsin, she was a bi-lingual anchor and correspondent for duopoly Telemundo WDJT-TV CBS-58, serving as a general assignment reporter for WDJT CBS-58 in English, while anchoring for Telemundo in Spanish.  She has been honored by the AP and the Wisconsin Broadcasters Association.  She made her broadcast journalism debut while studying at the Medill School of Journalism with NBC-TV affiliate WGEM-TV.
CNN Worldwide, a division of Turner Broadcasting System, Inc., a Time Warner Company, is the most trusted source for news and information. Its reach extends to nine cable and satellite television networks; one private place-based network; two radio networks; wireless devices around the world; CNN Digital Network, the No. 1 network of news Web sites in the United States; CNN Newsource, the world's most extensively-syndicated news service; and strategic international partnerships within both television and the digital media.
Pamela Brown Photo: http://imageselect.turner.com/download/downloadimages.aspx?id=9e7be80c-ab86-4857-959d-42aa36c1d4c5
George Howell Photo: http://imageselect.turner.com/download/downloadimages.aspx?id=b6a7233a-224d-40d6-9ec9-5525aaafc7da
Alina Machado Photo: http://imageselect.turner.com/download/downloadimages.aspx?id=237e2cc6-b806-400d-b051-d12b871d0d30
-30-
Contacts:
Barbara Levin                      212.275.8152                       barbara.levin@turner.com                                @blevincnn
Bridget Leininger                 404.827.1621                       bridget.leininger@turner.com            @bleiningercnn