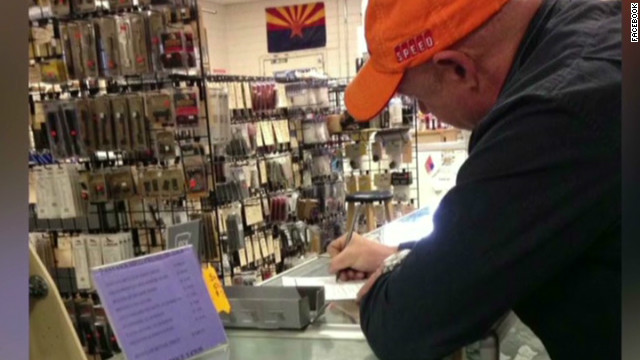 The Situation Room with Wolf Blitzer
March 11th, 2013
Mark Kelly tells CNN's Wolf Blitzer he will turn in the AR-15 to the Tucson Police Department
The husband of former Rep. Gabby Giffords, Mark Kelly spoke with CNN's Wolf Blitzer about what he plans to do with the AR-15 assault rifle he purchased over the weekend. Highlights from the interview are below; a full transcript will be posted on http://archives.cnn.com/TRANSCRIPTS/sitroom.html. This interview aired on CNN's The Situation Room with Wolf Blitzer in the 5 p.m. ET hour.
MANDATORY CREDIT: CNN's "The Situation Room with Wolf Blitzer"

Highlight from Full Interview:
THIS IS A RUSH FDCH TRANSCRIPT. IT MAY NOT BE IN ITS FINAL FORM AND MAY BE UPDATED.
WOLF BLITZER, CNN ANCHOR:  So what's going on, Mark?  How come you went out and bought an AR-15?
MARK KELLY, HUSBAND OF GABRIELLE GIFFORDS:  Well, Wolf, it's important for me to have firsthand knowledge about how easy it is or difficult it is, you know, to buy a weapon like that.  You know, it is through a background check obviously at a federally licensed gun dealer, but it is important for me to know, you know, what it is and to have firsthand knowledge.
So in the future, you know, I'm looking forward at some point to buying a gun, you know, at a gun show, also possibly selling a gun so I know really the ins and outs of this issue.
BLITZER:  So what was it like going to a store and buying an AR-15?
KELLY:  You know, it is actually pretty easy.  You know, for a weapon that's so deadly and really designed for the military, especially with the high-capacity magazines, it is a pretty easy thing to do, even with a background check.
You know, and speaking of background checks, I mean, this is going to be an important week here in the Senate Judiciary Committee as this bill gets marked up.  And we're hopeful something can be done in moving the background check legislation forward.
—
BLITZER:  The conservative news site Breitbart suggested that you went public with this decision to buy an AR-15 because they were about to report it.  I will read to you from what Breitbart.com said on Saturday.
"Breitbart News then began investigating the details surrounding the purchase, including visiting the gun store.  Suddenly Kelly announced on his Facebook page that he was not going to keep the AR-15, which he has yet to pick up from the store."
What do you say about that?
KELLY:  Well, I don't know anything about who Breitbart is or anything about his Web site.  I mean, we had a plan to go in there to buy a .45, and if we had the opportunity to buy an AR-15 as well.
And, you know, I don't know the timing, but we had a plan on when we were going to announce that on Facebook.  In the future I'll be talking about buying a gun from a gun show, also selling a gun.  So that's all to come later because I really need to understand this, the issues, you know, surrounding gun violence and these weapons.
—
BLITZER:  What are you going to do with that AR-15?
KELLY:  Well, the plan is to turn it into the Tucson Police Department.  So once I get access — you know, once I actually take possession of it, we'll be handing it in to the Tucson PD.
BLITZER:  And you bought a handgun, a .45 caliber?  Is that right?
KELLY:  Yes.  That one I'll keep.  You know, Gabby and I are both gun owners, strong supporters of the Second Amendment, I've had guns all my life.  So I'll be keeping the .45, turning in the AR-15.
But the important thing that's actually coming up this week, like I mentioned, is what's going to happen in the Senate Judiciary Committee.  I mean, it is really important that we get this gun — you know, get a universal background check passed.
###