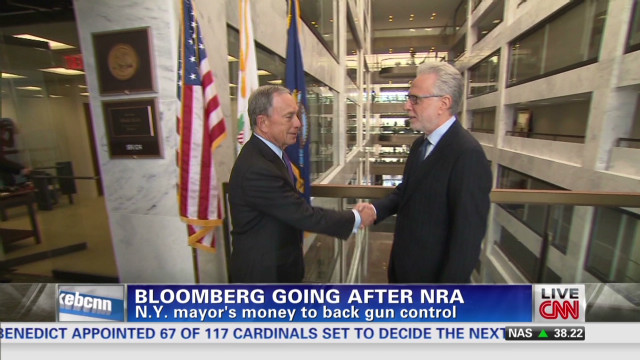 The Situation Room with Wolf Blitzer
February 27th, 2013
Mayor Bloomberg to CNN's Wolf Blitzer, "The NRA has had the field to itself of talking about guns…"
CNN's Wolf Blitzer traveled to Capitol Hill today to talk with New York City Mayor Michael Bloomberg about gun violence, politics and more. A highlight from the interview is below; a full transcript will be posted on http://archives.cnn.com/TRANSCRIPTS/sitroom.html. This interview, along with other guest interviews booked for today – Rev. Jesse Jackson, Bob Woodward and USDA Secy. Tom Vilsack – will air during CNN's The Situation Room with Wolf Blitzer, 4-7 p.m. ET. Visit http://cnnpressroom.blogs.cnn.com for additional information from the program.
Blitzer on his Bloomberg interview, "It was clear to me that Mayor Bloomberg is in Washington, he's making it clear to everyone right now, he's ready to put his money where his mouth is, if you will.  He's going to spend a lot of money, just as he did in the special election in Chicago — Jesse Jackson, Jr.'s seat — to get someone elected who agrees with him, that there is way too much gun violence in the United States and the way to deal with it is much more gun control."
MANDATORY CREDIT: CNN's "The Situation Room with Wolf Blitzer"

Highlight from Full Interview:
THIS IS A RUSH FDCH TRANSCRIPT. IT MAY NOT BE IN ITS FINAL FORM AND MAY BE UPDATED.
BLITZER:  You were willing to put your money where your mouth is.
MAYOR MICHAEL BLOOMBERG, NEW YORK CITY:  Well, you know, the NRA has had the field to itself of talking about guns.  And it is time for a balanced approach so the public can get the information, and then let the public decide.
BLITZER:  That win in Chicago, did it underscore that in order to fight the NRA you really got to come up with a lot of money.  Is that the lesson you learned?
BLOOMBERG:  No, but I think it is a harbinger of what is going to happen here.  You don't have to put money into every race.  In the end, the money doesn't matter, it is the people that show up at the polls.
###