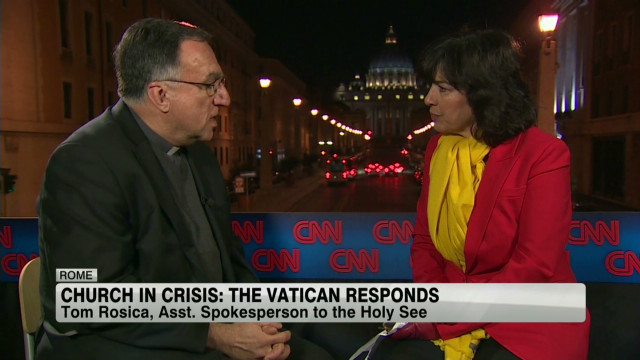 Vatican Conclave
February 25th, 2013
'Amanpour' broadcasts live from Rome during last week of the papacy of Benedict XVI
CNN International's Christiane Amanpour anchors live from Rome all this week – the last week for the papacy of Benedict XVI.
On Monday's program, she spoke with Tom Rosica, assistant spokesperson to the Holy See, about today's announced resignation of the U.K.'s Cardinal Keith O'Brien, amid claims that he made sexual advances towards other priests, and also Cardinal Roger Mahony of Los Angeles, criticized for his handling the priest sexual abuse crisis.  Despite the circulation of a petition to protest his participation in the upcoming Vatican conclave to select a new pope, Father Rosica confirmed during his interview with Amanpour that Cardinal Mahony is now in Rome and expects to participate in the selection process.
In addition to Father Rosica, Amanpour interviewed journalist and former Dominican friar, Mark Dowd, who is openly gay, who describes homosexuality as a "ticking time bomb in the Catholic Church," suggesting that perhaps half of the clergy are homosexual.
And also on Monday's program, Amanpour interviewed veteran Vatican journalist, Marco Politi, of la Repubblica about the factors that may have influenced the retirement of Pope Benedict XVI, about clergy practicing their sexuality despite their vows of celibacy, and other challenges facing the new pope.
Amanpour airs weekdays on CNN International at 3:00pmET in North America, and at 9:00pmCET in Europe.  The full transcript of this program may be found here.
###