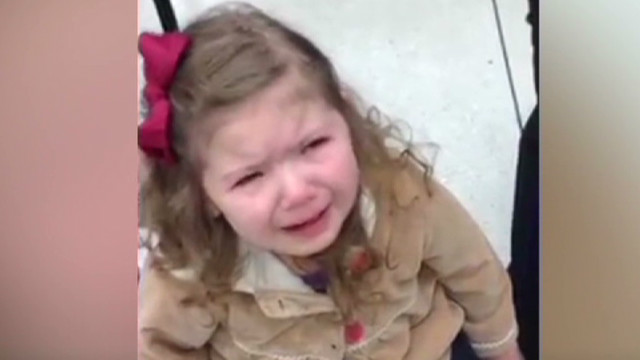 The Situation Room with Wolf Blitzer
February 22nd, 2013
TSA administrator to CNN's Wolf Blitzer: "I empathize with this family… and I'm sorry for the inaccurate information …"
TSA administrator John Pistole spoke with CNN's Wolf Blitzer about the looming budget cuts facing the federal government, the invasive TSA security procedures used on a 3-year-old girl and more. A highlight from the interview is below; a full transcript will be posted on http://archives.cnn.com/TRANSCRIPTS/sitroom.html. This interview will air during CNN's The Situation Room with Wolf Blitzer, 4-7 p.m. ET today.
MANDATORY CREDIT: CNN's "The Situation Room with Wolf Blitzer"

Highlights from Full Interview:
THIS IS A RUSH FDCH TRANSCRIPT. IT MAY NOT BE IN ITS FINAL FORM AND MAY BE UPDATED.
BLITZER:  I want to get your reaction to this widely publicized incident this week; a little 3-year-old girl in a wheelchair with spina bifida, she was stopped with her mother going through security.  And it's seen widely on YouTube; I think there have been hundreds of thousands of hits over there.  You see this little girl crying.
You've looked into this I'm sure.  What happened?  Because it causes so much bad publicity for TSA administrator and officials.
PISTOLE:  Well, let me start by saying that, as a father of two daughters, I empathize with this family.  And regret and I'm sorry for the inaccurate information that we provided to that family as they went through the airport security.
So given that, we have actually made a number of changes, particularly in the last year, year and a half, to move away from that one-size-fits-all security and actually change the policies for children 12 and under and the elderly, 75 and older, so situations like this would not occur.
So in this instance, after several minutes of having a supervisor come in and what we call the passenger support specialist, the PSS, the — obviously the child, Lucy (ph), was not given a patdown,went  through the alternate screening that we have set up for situations like this.  And then they were able to go on their vacation and then return in a — in a timely manner.
###