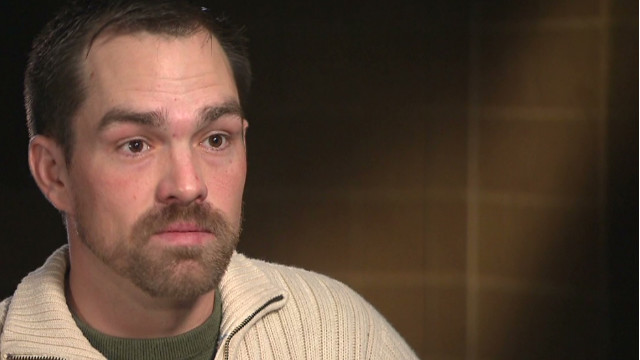 Jake Tapper
February 5th, 2013
Jake Tapper Reports – An American Hero: The Uncommon Valor of Clint Romesha
Former Staff Sgt. Clinton Romesha tells CNN's Jake Tapper about seeing the dangerous location of his outpost in Afghanistan for the first time: http://on.cnn.com/WsaaJ4
In a Jake Tapper Reports documentary, the anchor and chief Washington correspondent will look back at one of the deadliest days of the Afghan war through a compelling interview with former U.S. Army Staff Sergeant Clinton Romesha, who led the courageous battle when Combat Outpost Keating was attacked on Oct. 3, 2009. The one-hour special will air Thursday, Feb. 7 at 10 p.m. ET, just days before President Obama will award Romesha the Medal of Honor for his actions that deadly day.
Tapper, who has the first sit-down television interview with Romesha, traveled to Minot, N.D., less than two weeks ago to speak with the him about his uncommon valor and remarkable service to his country. The special also will feature interviews with Sergeant Thomas Rasmussen and former Private First Class Chris Jones who fought alongside Romesha.
Romesha was a central figure in Tapper's recently published book about Combat Outpost Keating, "The Outpost: An Untold Story of American Valor," which also chronicled eight American service members killed in the attack. The service members who made the ultimate sacrifice were Sergeant Justin T. Gallegos, Specialist Christopher T. Griffin, Sergeant Joshua Hardt, Sergeant Joshua J. Kirk, Specialist Stephan L. Mace, Staff Sergeant Vernon W. Martin, Sergeant Michael P. Scusa and Private First Class Kevin C. Thomson.
CNN anchor and chief Washington correspondent Jake Tapper joined the network in January of 2013. His one-hour weekday program will premiere in March. Tapper's book "The Outpost: An Untold Story of American Valor" debuted on the New York Times best-seller list.  Tapper has been a widely respected reporter in the nation's capital for more than 14 years. In his more than nine years at ABC News, Tapper covered a wide range of stories, visiting remote corners of Afghanistan and covering the war in Iraq.
CNN Worldwide, a division of Turner Broadcasting System, Inc., a Time Warner Company, is the most trusted source for news and information. Its reach extends to nine cable and satellite television networks; one private place-based network; two radio networks; wireless devices around the world; CNN Digital Network, the No. 1 network of news Web sites in the United States; CNN Newsource, the world's most extensively syndicated news service; and strategic international partnerships within both television and the digital media.
-30-