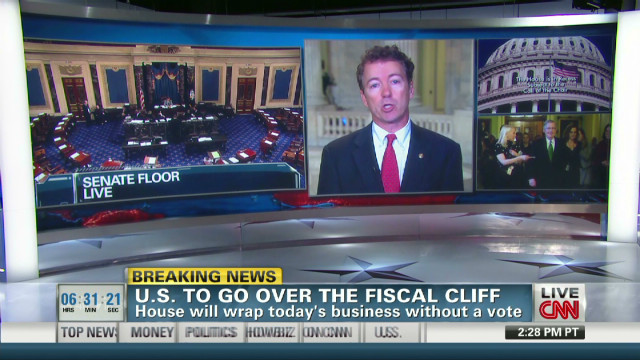 The Situation Room with Wolf Blitzer
December 31st, 2012
Sen. Rand Paul says fiscal cliff bill: "…will pass with bipartisan support in the Senate"
CNN's Wolf Blitzer spoke with Sen. Rand Paul (R-KY) about how he plans to vote on the fiscal cliff measure. Sen. Paul said, "I'm a likely no, because there's a lot of new spending in it also. There's going to be tax increases. Which I think are bad for the economy." A highlight from the interview is after the jump; for a full transcript of the program visit http://archives.cnn.com/TRANSCRIPTS/2012.12.31.html.
Please Credit – CNN's The Situation Room with Wolf Blitzer
Highlight from Interview
THIS IS A RUSH TRANSCRIPT. THIS COPY MAY NOT BE IN ITS FINAL FORM AND MAY BE UPDATED.
BLITZER: Put on your political punditry hat for a moment.  I assume you agree that if Harry Reid and Mitch McConnell put it up on the floor and there is a vote tonight, it will pass the Senate despite yout objection?
PAUL: Yes. I think it will pass with bipartisan support in the Senate.  The House is a little more unpredictable.  I think it will end up, once Democrats sign on board in the House, it will pass as well.  But it's going to require Democrats and Republicans, probably in both bodies in order to pass.  I personally just don't like it because I think we're kicking the can down the road and we aren't really addressing the real crisis in our country.  Which really, to tell you the truth, was not the fiscal cliff that everybody's been talking about, it's a debt crisis where we're spending over $1 trillion each year we don't have.  Where we now owe more per person than they do in Greece.  By some measurements, we're worse off than Greece now.  This deal will do nothing to help reduce the deficit.
###