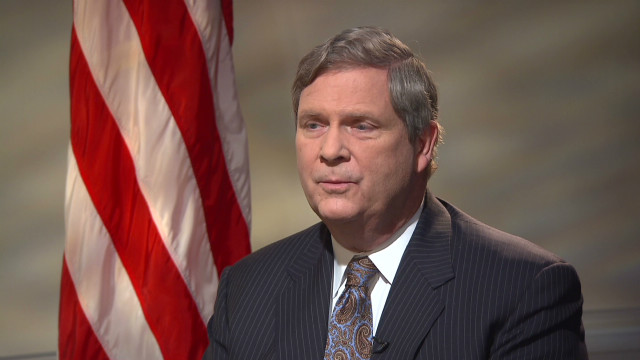 State of the Union with Candy Crowley
December 30th, 2012
Agriculture Secy on gun control: This could be a unifying conversation and Lord knows we need to be unified.
CNN's State of the Union with Candy Crowley  featured an interview with U.S. Secretary of Agriculture Tom Vilsack. Crowley spoke with Secretary Vilsack about guns in rural America, the potential for price increases on dairy products and more. A highlight from the interview is below and the full transcript will be posted on http://archives.cnn.com/TRANSCRIPTS/sotu.html.
MANDATORY CREDIT: CNN's State of the Union"
Highlight from Interview– Secy. Vilsack
THIS IS A RUSH FDCH TRANSCRIPT. THIS COPY MAY NOT BE IN ITS FINAL FORM AND MAY BE UPDATED.
VILSACK: I mean, when the Speaker of the House basically says, look, we can't talk about the fiscal cliff and the farm bill at the same time because it's a 1,000-page bill.  It's not 1,000-page bill, first and foremost.  It is a bill that could easily be attached to our hurricane relief bill or a fiscal cliff resolution bill, easily attached to either one of those, if he had the will, if it was a priority.
…..
Here's how I view this.  I view when the conversation starts, as this conversation started, with a respect for the 2nd Amendment and a recognition that there is a value system attached to it that is important, and it starts with the recognition that people do hunt and that that's important to them — 38 percent of America either hunts or fishes.  So you know, it's a big part of the population.  It's a much deeper conversation.
And it's a good one to have for this country.  It's a — it's potentially a unifying conversation.  The problem is that these conversations are always couched in the terms of dividing us.  This could be a unifying conversation and Lord knows we need to be unified.
###