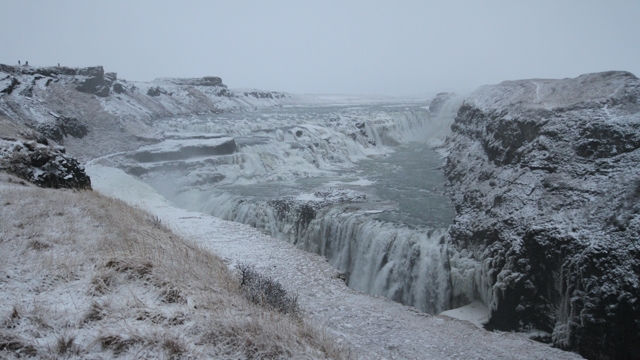 CNN Preview
November 30th, 2012
PREVIEW: CNN International Programme Information Weeks 50, 51 & 52
CNN Go: Edinburgh
Wednesday 12 December at 1030 GMT / 1130 CET and 1730 GMT / 1830 CET
Saturday 15 December at 0530 GMT / 0630 CET and 1930 GMT / 2030 CET
Sunday 16 December at 1330 GMT/ 1430 CET
Duration: 30 minutes
Scotland's capital is celebrated as a destination to welcome the New Year, but this December, 'CNNGo' finds out what Edinburgh has to offer year-round.
The locals take CNNGo beyond the famous festivals and explain why the city is special to them. A ghost tour guide leads CNN below Edinburgh's historic OldTown into a warren of ancient alleyways, while a young adventurer scales the heights of the world's biggest indoor climbing arena.
CNNGo heads out to sea with a photojournalist to discover the city's conceivably underappreciated islands and coastline, and visits a local store to learn about the evolution of Scotland's national dress – the kilt.
A student from the University of Edinburgh tells CNNGo what inspired her to move to the city from Ukraine, and a veteran storyteller talks through the capital's literary connections – from Sherlock Holmes to Harry Potter.
Whether you think you know Edinburgh or not, you'll find something surprising in this episode of CNNGo.
CNN Business Traveller
Thursday 13 December at 0830 GMT / 0930 CET
Friday 14 December at 0530 GMT / 0630 CET
Saturday 15 December at 0730 GMT / 0830 CET and at 0400 GMT / 0500 CET
Duration: 30 minutes
As the holiday season approaches, 'CNN Business Traveller' visits the world's northernmost capital: Reykjavic, Iceland.
After an economic meltdown and an ash cloud eruption which caused the greatest disruption to global aviation since World War II  Iceland, is back. The country's president, Ólafur Ragnar Grímsson, and First Lady Dorrit Moussaieff give host Richard Quest a tour of the nation's most magical sights.
Quest hears first hand how Iceland has put itself back on the road to recovery; a new part of that strategy has been promoting itself as a meeting point between Europe and North America to do business. The programme visits 'The White House', where Mikhail Gorbachev and Ronald Reagan famously met in 1986 to discuss nuclear arms reduction, ushering the end of the Cold War, along with today's foremost venue, Reykjavic's award-winning Harpa concert hall.
Quest also visits the country's hot springs and waterfalls, the famous Blue Lagoon; and witnesses the world-famous Northern Lights. He also fits in a spot of shopping and an outdoor expedition with the First Lady on Icelandic horses.
Also in this month's CNN Business Traveller, Quest gathers a selection of airline amenity kits to see the best, most useful and most quirky giveaways in Business Class in the air; and Meanwhile, Ayesha Durgahee goes to explore what hotels have to offer in providing what all travellers really want – a good night's sleep.
@RichardQuest
cnn.com/businesstraveller
Defining Moments 2012
Saturday 15 December 2000 GMT / 2100 CET
Sunday 16 December at 0200 GMT / 0300 CET and 1000 GMT / 1100 CET
Duration: 1 hour
 *ROUGH-CUT DVDs AVAILABLE ON REQUEST*
As with all the years before it, 2012 has been a year of discovery and celebration, as well as disappointment and tragedy.  CNN looks back at some of the most extraordinary events in 'Defining Moments 2012'.
As the Arab Spring continued to play out on the Middle East landscape, efforts to unseat the regime in Syria left the country devastated by a civil war. This year saw the U.S. consulate in Benghazi, Libya came under deadly attack on the anniversary of 9/11, and as 2012 drew to a close, there was a tentative ceasefire between Israel and Hamas, after a series of deadly attacks launched from both sides. 
Around the world, elections swept familiar faces into power, such as Vladimir Putin back in office in Russia, and Barack Obama securing another four years as president in the U.S.  In the meantime, Europe felt the despair of a severe debt crisis that imposed austerity cuts from Spain to Italy to Greece, whilst in South Africa over thirty protesting miners were shot and killed by police, in the deadliest event the country has experienced since apartheid. In the sport realm, cyclist Lance Armstrong was disqualified from all his winnings after the results of an investigation linked him to performance-enhancing drugs.
Defining Moments 2012 also features the poignant stories of those affected by tragedies and devastating natural disasters, such as the Costa Concordia cruise ship disaster, and Hurricane Sandy, which brought deadly force to the U.S. east coast and the Caribbean. This year has also been a chance for the world to celebrate, with events such as the London 2012 Olympics and Paralympic Games marking extraordinary sporting ability and diversity. As space shuttle Endeavour rolled into its final resting place in California retirement, Austrian daredevil Felix Baumgartner became the first skydiver to break the sound barrier – leaving us with that little hope and excitement that anything is possible.
Thursday 20 December at 1030 GMT / 1130 CET and 1730 GMT / 1830 CET
Saturday 22 December at 0830 GMT / 0930 CET and 2200 GMT / 2300 CET
Sunday 23 December at 1730 GMT / 1830 CET
Saturday 29 December at 1730 GMT / 1830 CET
Sunday 30 December at 0830 GMT / 0930 CET and 2230 GMT/ 2330 CET
Duration: 30 minutes
In December, 'Open Court' travels to the Czech Republic, which concludes 2012 with an historic double win in the capital city of Prague: the Davis Cup and the Federation Cup.
CNN catches up with Czech players Radek Stepanek and world number 6 Tomas Berdych, who teamed up to bring Davis Cup glory to the Czech Republic for the first time since 1980. Open Court is on the scene when up to 12,000 exultant fans come to celebrate the pairs win. The Czech Davis Cup championship team from 1980, led by Ivan Lendl, was also there to watch as the three day drama unfolded.
Also this month, host Pat Cash travels from Prague to Projestov to meet world number 8 and 2011 Wimbledon champion, Petra Kvitova. Cash plays a hit on court with the Czech star, whilst she tells him about her plans for 2013: improving her rankings and winning more grand slams. Open Court then takes the viewers to an elite training facility, where Andre Agassi and Steffi Graf lend their expertise to players on the rise.
Finally in this year-ender, the programme relives its funniest moments of 2012, with a collection of outtakes – the series' best 'unforced errors', if you like!
cnn.com/opencourt
@cnnopencourt
@TheRealPatCash
Wednesday 26 December at 1030 GMT / 1130 CET and 1730 GMT / 1830 CET
Saturday 29 December at 0530 GMT / 0630 CET and 1930 GMT / 2030 CET
Sunday 30 December at 1330 GMT / 1430 CET
Duration: 30 minutes
This month, 'Leading Women' meets American automotive executive Grace Lieblein (pictured, left). Recognised by Fortune magazine as one of the '50 Most Powerful Women in Business' Lieblien worked her way up the ladder at General Motors Brazil, rising from co-op student at the company's assembly division in Los Angeles to become President and Managing Director, now also holding the position of Vice President on the Board of Directors of the American Chamber Mexico.
December's programme also meets South Korean opera singer Sumi Jo, (pictured, right), whose voice has been described as a 'gift from heaven'. Elected as UNESCO's 'Artist for Peace' and praised for the remarkable agility, precision and warmth of her voice, Jo has established herself as one of the world's most sought-after sopranos, performing at events including the opening ceremonies of the 2002 FIFA World Cup and the Beijing Olympics. The singer has also enjoyed immense commercial success, with her Broadway crossover album 'Only Love' selling 1.2 million copies worldwide.
Thursday 27 December at 1030 GMT / 1130 CET and 1730 GMT / 1830 CET
Saturday 29 December at 0830 GMT / 0930 CET and 2200 GMT / 2300 CET
Sunday 30 December 1730 GMT / 1830 CET
Duration: 15 minutes
In December's 'Winning Post', host Francesca Cumani reports from Hong Kong, as the territory prepares for the Longines Hong Kong International Races.
Hong Kong isone of the world's most densely populated areas, so finding space for accommodation is a challenge for humans and horses alike. However, trainers there have found a unique solution in creating multi-storey barns. Winning Post takes viewers on a tour of these high-rise homes for horses.
Another modern trend the region is seeing is European jockeys deciding to settle in Hong Kong for the racing season. Not only because the most prestigious group one races are run in Asia during winter, but they are considered real superstars there! Winning Post takes a visit to the Hong Kong homes of the most talented international jockeys, and joins the racing celebrities on their red carpet events.
The racing industry is thriving in Hong Kong and the Longines Hong Kong Cup is the biggest event of the year for the growing local racing fans. In this month's show, Cumani depicts the colours and atmosphere on race day.
facebook.com/CNNwinningpost
@francescacumani
Thursday 27 December at 1045 GMT / 1145 CET and 1745 GMT / 1845 CET
Saturday 29 December at 0845 GMT / 0945 CET and 2215 GMT / 2315 CET
Sunday 30 December at 1745 GMT / 1845 CET
Duration: 15 minutes
Each month, 'The Gateway'goes behind the scenes at the world's major transport hubs, revealing the logistics behind how they keep everything running smoothly. Hosted by Becky Anderson (pictured), in December, the programme visits Dubai's Jebel Ali port.
Reclaimed from the shallow waters of the Gulf in the late 1970s, Jebel Ali is now the biggest man-made deep-sea harbour in the world. Its enviable geographic location close to the major east-west trades has enabled it to act as a maritime link between the Far East and the western hemisphere, and provide access to a market of nearly two billion people.
More than just a local port, Jebel Ali is a hub for the entire region, handling 80 per cent of the UAE's international trade. The Port is now expanding even further, with plans to install state of the art technology to run the port's new mega container terminal. The Gateway looks at how else Jebel Ali is expanding to increase its stake in global trade.
As well as looking ahead to Jebel Ali's future, the programme delves into its maritime past, visiting Dubai's old commercial heart, the Creek. For generations, important local exports such as dates have been loaded on traditional wooden vessels known as dhows, ready to be transported to places such as Iraq and Saudi Arabia – a practice that continues right up to this day.
CNN.com/gateway
@BeckyCNN