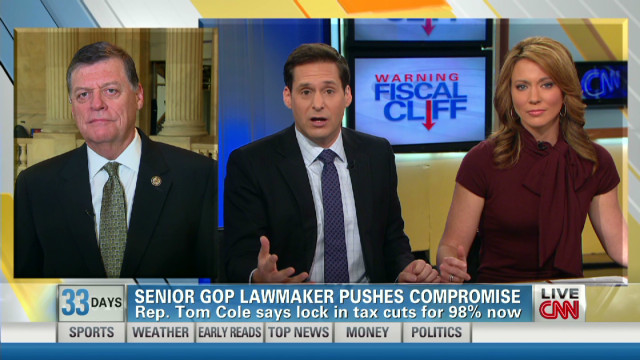 Starting Point
November 29th, 2012
Rep. Cole: Tactic strengthens position; Rep. Labrador "doesn't know what he's talking about"
Rep. Tom Cole (R-OK) reflects on his recent comments to extend tax cuts for 98% of Americans, and how this tactic "strengthens position" and retains "lots of leverage" for Republicans. He also responds to criticism from Republicans and support from Democrats.
On criticism from Rep. Raul Labrador (R-ID), Rep. Cole says, "I love Raul. He's a great guy. But in this case, honestly he is new here and he doesn't know what he's talking about in terms of my record on spending and taxes. So we can have that discussion later. But look, he's a terrific member."
Starting Point with Soledad O'Brien airs weekday mornings from 7-9am ET on CNN.