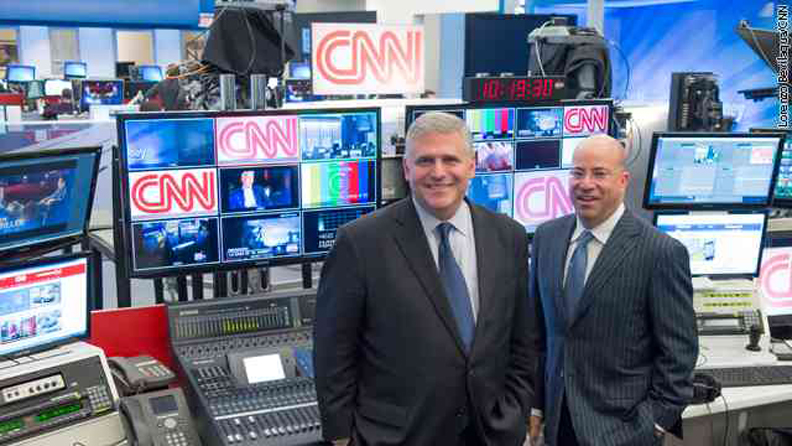 CNN
November 29th, 2012
Jeff Zucker Named President of CNN Worldwide
Jeff Zucker will join CNN Worldwide as president of the multi-platform global news enterprise, it was announced today by Phil Kent, chairman and CEO of CNN parent company Turner Broadcasting System, Inc.  In January 2013, Zucker will assume executive oversight of a portfolio of 23 branded news and information businesses that includes CNN/U.S., CNN International, CNN.com and HLN and reaches more than 2 billion people in some 200 countries around the world.  Zucker will report to Kent and will be based at CNN in New York.
Zucker started his 25-year career with NBC as a researcher for NBC Sports' coverage of the 1988 Summer Olympic Games and rose to president and chief executive officer of NBC Universal.  He was named executive producer of Today in January 1992; under his eight-year leadership, the program was the most-watched morning news show and the most profitable program on television.  Zucker went on to executive-produce NBC Nightly News with Tom Brokaw and the network's coverage of the Persian Gulf War, the 1993 and 1997 presidential inaugurations and the 2000 elections.  He was promoted to president of NBC Entertainment, president of the NBC Entertainment, News & Cable group and president and CEO of the NBC Universal Television Group.  Currently, Zucker is executive producer of the syndicated daytime show Katie.
"Jeff's experience as a news executive is unmatched for its breadth and success," said Kent.  "He built and sustained the number-one brand in morning news, and under his watch NBC's signature news programming set a standard for quality and professionalism.  As a programmer, a brand-builder and a leader, he will bring energy and new thinking to CNN.  I couldn't be happier to welcome him or more excited about what he'll accomplish here." 
"I am thrilled to join the distinguished team of journalists across the worldwide platforms of CNN," said Zucker.  "The global reach and scale of the CNN brand is unparalleled in all of news.  Outside of my family and the Miami Dolphins, there is nothing I am as passionate about as journalism.  I spent the most rewarding years of my career as a journalist, and it's where I look forward to spending many more.  I am grateful to Phil Kent for this opportunity, and I'm excited to return to daily newsgathering and compelling storytelling in a place that values those above all else."
The original 24-hour news network, CNN has the greatest reach of any domestic news network.  The CNN brand on television extends to 100 million households in the U.S. and 265 million households abroad, with significant online and mobile reach and a global newsgathering network with 45 locations.  CNN signatures include Anderson Cooper 360, The Situation Room with Wolf Blitzer, Piers Morgan Tonight, State of the Union, Amanpour and Quest Means Business, as well as award-winning documentaries, unrivaled breaking news coverage and peerless political reporting.
CNN Worldwide, a division of Turner Broadcasting System, Inc., a Time Warner company, is the most trusted source for news and information. Its reach extends to nine cable and satellite television networks; one private place-based network; two radio networks; wireless devices around the world; CNN Digital Network, the No. 1 network of news Web sites in the United States; CNN Newsource, the world's most extensively syndicated news service; and strategic international partnerships within both television and the digital media.
###