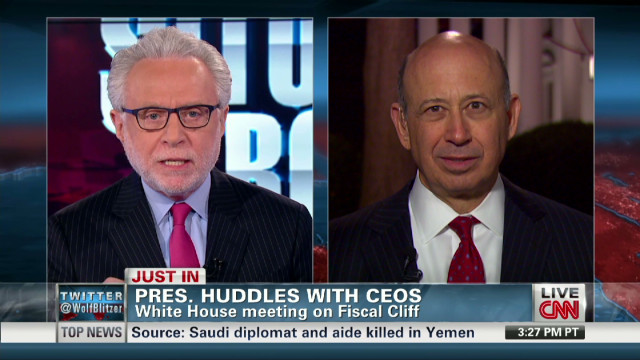 Wolf Blitzer
November 28th, 2012
Goldman Sachs CEO Lloyd Blankfein says he "wouldn't preclude" an increase to the tax rate
Goldman Sachs CEO Lloyd Blankfein spoke with Wolf Blitzer after his meeting with President Obama about his thoughts on preventing the looming fiscal cliff. A full transcript of the program will be posted on http://archives.cnn.com/TRANSCRIPTS/sitroom.html .
PLEASE CREDIT ALL USAGE TO CNN's THE SITUATION ROOM WITH WOLF BLITZER
HIGHLIGHT FROM INTERVIEW
THIS IS A RUSH FDCH TRANSCRIPT. IT MAY NOT BE IN ITS FINAL FORM AND MAY BE UPDATED.
BLITZER:  So does that mean you would support the president when he says go ahead and increase that highest marginal tax rate from 35 percent to 39.6 percent, where it was during the Clinton administration, for families — for incomes above $250,000 a year?
BLANKFEIN: I think if that's what it took to make the math work, when you look at what — when you look at the entitlement side and when you look at the revenue side, I wouldn't — I wouldn't preclude that.  Of course, we would have to do that at the numbers — if the numbers drive that way.
###