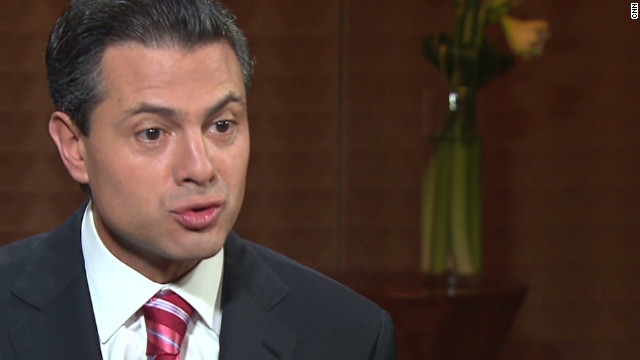 The Situation Room with Wolf Blitzer
November 27th, 2012
Blitzer sits down with Mexican President-elect
Ahead of the Mexican President-elect's meeting with President Obama today at the White House, Enrique Peña Nieto sat down with CNN's Wolf Blitzer to talk about U.S. relations with Mexico, trade and more. This full interview will air today on The Situation Room with Wolf Blitzer in the 5 p.m. ET hour. A highlight from the interview is below and a full transcript will be posted on http://archives.cnn.com/TRANSCRIPTS/sitroom.html.
PLEASE CREDIT ALL USAGE TO CNN's THE SITUATION ROOM WITH WOLF BLITZER
HIGHLIGHT FROM INTERVIEW
THIS IS A RUSH FDCH TRANSCRIPT. IT MAY NOT BE IN ITS FINAL FORM AND MAY BE UPDATED.
WOLF BLITZER, HOST:  What's the biggest problem in U.S.-Mexican relations right now?
ENRIQUE PENA NIETO, PRESIDENT-ELECT, MEXICO:  To build a greater trust in our relationship.  I think this first encounter with Mr. Obama, this first meeting, the main meeting — purpose will be to get to know each other, because I'm convinced that a good relationship between the countries has to go through the people who head said governments.  They will have a good understanding.
And my purpose, then, is to create a relationship, to build a relationship based on trust, a relationship that would be positive, constructive, that would allow us to understand the world affairs and the world matters that both peoples have to face.  And based on this agreement, we'll reach a relationship of brotherhood.
###