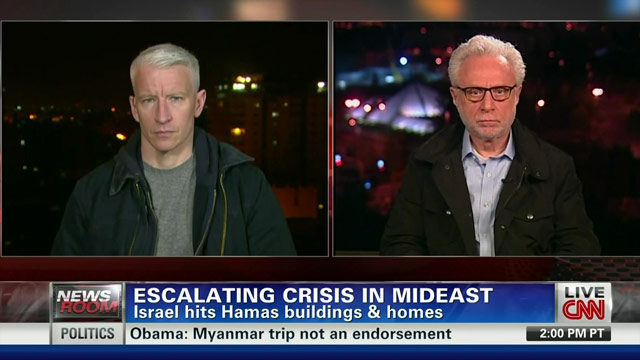 CNN International
November 18th, 2012
Blitzer, Cooper Travel to Middle East to Report on Israel-Gaza Conflict
As tensions rise in the escalating conflict between Israel and Hamas, anchors Wolf Blitzer and Anderson Cooper will broadcast live from the region beginning Monday. Blitzer will report live from Jerusalem while Cooper will report live from Gaza. Their programs, The Situation Room with Wolf Blitzer and Anderson Cooper 360°, will air live from their respective locations.
CNN continues to cover the deadly attacks in Israel and Gaza with reporters positioned all around the Middle East, including Christiane Amanpour, who will anchor Amanpour from Jerusalem on Monday for CNN International. Additional deployments include:
•    Sara Sidner in Jerusalem
•    Ben Wedeman in Gaza
•    Arwa Damon in Gaza
•    Anderson Cooper in Gaza
•    Wolf Blitzer in Jerusalem
•    Christiane Amanpour in Jerusalem
•    Fred Pleitgen in southern Israel
•    Nick Paton Walsh in Beirut
•    Reza Sayah in Cairo
•    Jose Levy in Jerusalem
The Situation Room with Wolf Blitzer airs weekdays 4 p.m. to 7 p.m. ET. Anderson Cooper 360° airs weekdays 8 p.m. to 9 p.m. and 10 p.m. ET. On CNN International, Amanpour airs 3 p.m. to 3:30pm and 5 p.m. to 5:30pm ET.
CNN Worldwide, a division of Turner Broadcasting System, Inc., a Time Warner Company, is the most trusted source for news and information. Its reach extends to nine cable and satellite television networks; one private place-based network; two radio networks; wireless devices around the world; CNN Digital Network, the No. 1 network of news Web sites in the United States; CNN Newsource, the world's most extensively syndicated news service; and strategic international partnerships within both television and the digital media.
-30-