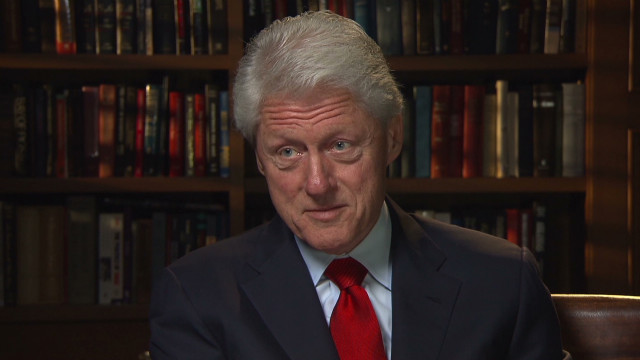 CNN Presents
November 15th, 2012
Dr. Sanjay Gupta, President Bill Clinton Discuss No. 1 Accidental Killer
Deadly Dose: Dr. Sanjay Gupta Reports debuts Sunday, Nov. 18, 8:00pm ET & PT
Every 19 minutes, someone dies of a drug overdose in America.  That U.S. Centers for Disease Control and Prevention (CDC) statistic refers to legal and illegal drug use, but most of those overdose deaths are due to legal prescription drugs.
Accidental prescription drug overdoses in the United States now kill more people than heroin, crack, and methamphetamines combined.  And, also according to the CDC, accidental prescription overdoses now kill more Americans than do car crashes.
In a compelling new documentary, Deadly Dose: Dr. Sanjay Gupta Reports,CNN chief medical correspondent Dr. Sanjay Gupta reports how prescription drug misuse has become an epidemic.  He speaks with a survivor, and takes viewers to the front lines of the crisis – riding along with paramedics, interviewing emergency room doctors, and listening to panicked calls to a poison response center – witnessing, first-hand, the too-often deadly consequences of drug overdoses.
Deadly Dose will debut on Sunday, Nov. 18 at 8:00pm and 11:00pm ET & PT on CNN/U.S.  The network will encore the one-hour documentary on Saturday, Dec. 1 at 8:00pm and 11:00pm ET & PT.
Deadly Dose alsofeatures an interview with former President Bill Clinton, who speaks movingly about the death of Benjamin Gupta (no relationship to Dr. Sanjay Gupta), the son of a campaign donor, who died after mixing a prescription pain reliever with alcohol.  Benjamin's father, Vinod Gupta, and brother, Alex Gupta, talk about the emotional toll of their loss and their commitment to educating other families facing the problem of prescription drug misuse.
Former President Clinton spoke with Dr. Gupta in Arkansas in mid-November:
"It is a good thing to have a medicine that will ease your pain.  It is not a good thing to take more of them than you need.  It is not a good thing to get even one (sic) to someone who does not need it.  And it is playing with life and death to give these medicines to people who have imbibed any kind of alcohol, because if you go to sleep, the medicine might tell your brain to quit breathing.  Most people don't know these basic things," says Clinton to Gupta in an interview exclusively conducted for the documentary.
Dr. Gupta stresses that the epidemic of prescription drug abuse and accidental overdose knows no geographic boundaries.  It is a growing epidemic in urban, suburban, and rural populations.  According to the Substance Abuse and Mental Health Services Administration, the misuse and abuse of prescription painkillers were responsible for more than 475,000 emergency room visits in 2009, a figure which doubled compared to the number of hospital emergency visits just five years prior.
"The people that have this problem are your friends and neighbors – and you don't know about it," Clinton says in the documentary.  
Deadly Dose explores how this crisis has risen to epidemic proportions in the United States, and examines potential solutions for reversing the epidemic.
Digital resources with more information on prescription drug misuse in the U.S. may be found at www.cnn.com/health.  Articles about the epidemic, including an editorial by Dr. Sanjay Gupta will also appear in the health section of www.cnn.com.  An excerpt from Dr. Gupta's interview with former President Clinton will accompany his editorial.
CNN Worldwide, a division of Turner Broadcasting System, Inc., a Time Warner Company, is the most trusted source for news and information. Its reach extends to nine cable and satellite television networks; one private place-based network; two radio networks; wireless devices around the world; CNN Digital Network, the No. 1 network of news Web sites in the United States; CNN Newsource, the world's most extensively-syndicated news service; and strategic international partnerships within both television and the digital media.
-30-