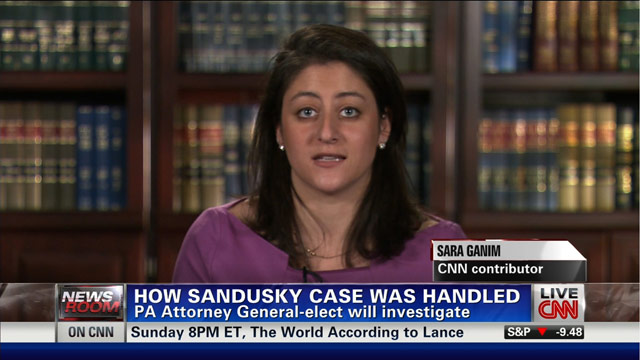 CNN Press Releases
November 13th, 2012
Pulitzer Prize Winner Sara Ganim Joins CNN
Sara Ganim will join CNN as a correspondent based in Atlanta, it was announced today by Terence Burke, vice president of newsgathering for CNN/U.S.
Ganim (@sganim) joins CNN from The Patriot News in Harrisburg, Penn.  While at The Patriot News, Ganim broke the story of the grand jury investigation into Jerry Sandusky, the former defensive coordinator for the storied Penn State University football program.  Her reporting of Sandusky's child sex abuse scandal that enveloped the school, head coach Joe Paterno and Sandusky's Second Mile Charity garnered a Pulitzer Prize in 2012. Along with her print journalism experience, she has also served as an on-air contributor for CNN, HLN and In Session during Sandusky's trial and conviction.
Prior to her work at The Patriot News, Ganim reported for the Centre Daily Times covering crime and the courts, and freelanced as a high-school student for the South Florida Sun-Sentinel.
"Sara is multi-talented, and a relentless reporter. Her instincts and her robust questioning while covering the Sandusky trial and the Penn State community are a testament to her award-winning journalism," said Burke.  "We are very fortunate to have her join our newsgathering team and we believe she has a bright future with CNN."
Ganim holds a bachelor's degree in journalism from Penn State University.  In 2011, she was honored with the George Polk Award in journalism and the Sidney Award for socially-conscious journalism.
CNN Worldwide, a division of Turner Broadcasting System, Inc., a Time Warner Company, is the most trusted source for news and information. Its reach extends to nine cable and satellite television networks; one private place-based network; two radio networks; wireless devices around the world; CNN Digital Network, the No. 1 network of news Web sites in the United States; CNN Newsource, the world's most extensively-syndicated news service; and strategic international partnerships within both television and the digital media.
-30-