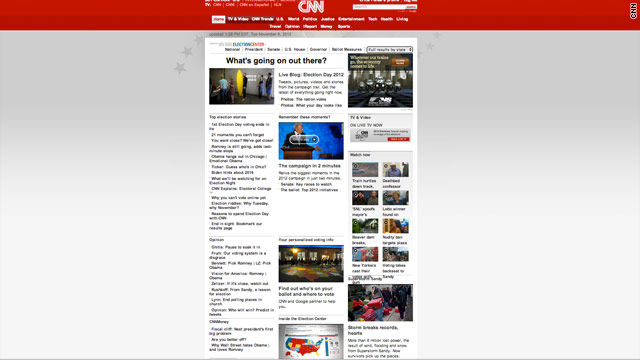 CNN Politics
November 6th, 2012
New Home Page for CNN.com on Election Day
For Election Day, CNN.com unveiled a new design on the Home Page, which will change throughout the day to highlight top election news, interactive data, social integrations and real-time updates about the races. Designed to provide a dynamic and interactive dashboard for the user, the top half of the page will offer breaking news, key stories and a dynamic ticker that updates as race results come in. The bottom half will focus on opinion, enterprise and social perspectives on the left and multimedia video, photos and interactives in the middle of the page. The right-column of the CNN.com Home Page will be reserved for those users who are seeking a break from the Election.
To find out the latest results as they come in, users can go to www.cnn.com/results online or on their mobile device.
CNN Digital will live stream from the campaign headquarters in Boston and Chicago as well as all acceptance and concession speeches from key races, giving users a front-row seat through CNN's mobile apps and at www.CNN.com/live. Users may also authenticate through their cable, satellite or telco providers to access CNN and HLN's 24-7 television feeds via TV Everywhere.
###