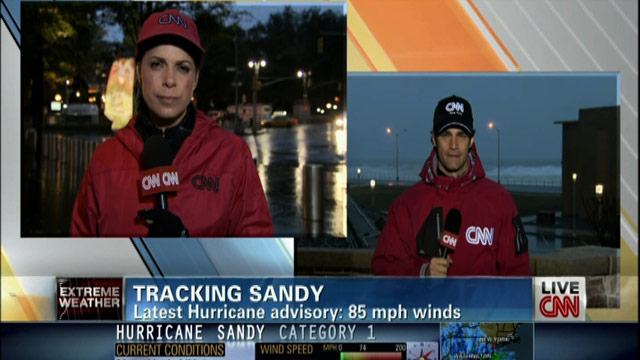 Sandy
October 26th, 2012
CNN's Comprehensive Coverage: Superstorm Sandy
Tens of millions of people were hunkered down Monday morning, bracing for howling winds, torrential downpours and storm surges that authorities warned could bring devastation unlike anything they've seen.
Superstorm Sandy could affect as many as 60 million people.
"This is the most catastrophic event that we have faced and been able to plan for in any of our lifetimes," Connecticut Gov. Dan Malloy warned.
CNN's comprehensive coverage of Hurricane Sandy includes CNN's Weather Team in studio from Atlanta, as well as correspondents on location in New York, New Jersey, Washington, D.C., Maryland and North Carolina.
Chad Myers @chadmyerscnn
Rob Marciano @robmarcianocnn
Anderson Cooper @andersoncooper
Soledad O'Brien @soledad_obrien
Erin Burnett @erinburnett
Ali Velshi @alivelshi
Carol Costello @carolcnn
John Berman @johnsberman
Ashleigh Banfield @cnnashleigh
Michael Holmes @holmescnn
Maggie Lake @maggielake
Ryan Smith @ryansmithtv
Mike Galanos
Bob Van Dillen @bobvandillen
Alison Kosik @alisonkosik
Jason Carroll @jasoncarrollcnn
Deb Feyerick @debfeyerickcnn
David Mattingly
Martin Savidge @martinsavidge
Brian Todd @briantoddcnn
Gary Tuchman @garytuchmancnn
Chris Lawrence @clawrencecnn
Athena Jones @athenacnn
Sandra Endo @sandraendocnn
George Howell @gkhcnn
Chris Welch @cwelchcnn
Ione Molinares  @IMolinaresCNN
María Santana  @MariaSantanaCNN
Rafael Fuenmayor @FuenmayorCNN