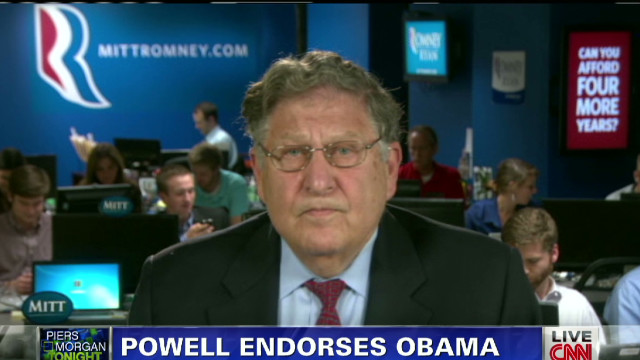 Piers Morgan
October 25th, 2012
Sununu: "When you have somebody of your own race that you're proud of…I applaud Colin for standing with him"
Tonight on his show, CNN's Piers Morgan asked former New Hampshire governor about Colin Powell's recent endorsement of the incumbent:
"Colin Powell has decided to opt for President Obama again, despite apparently still being a Republican. Is it time he left the party?"
"I'm not sure how important that is," replied the 73-year-old adviser to Mitt Romney. "Frankly, when you take a look at Colin Powell, you have to wonder if that's an endorsement based on issues, or whether he's got a slightly different reason for preferring President Obama?"
"What reason would that be?" wondered the host.
"Well, I think when you have somebody of your own race that you're proud of being President of the United States, I applaud Colin for standing with him."