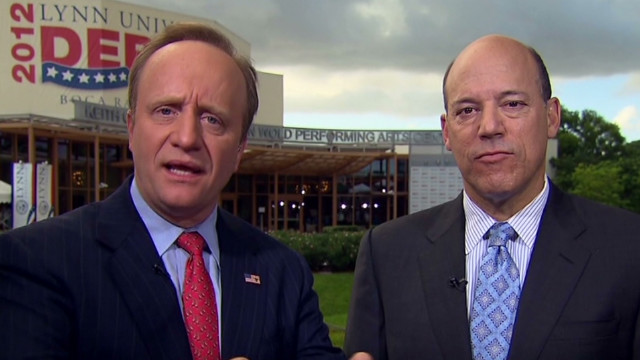 The Situation Room with Wolf Blitzer
October 22nd, 2012
Democratic strategist to CNN: Romney likely to carry North Carolina
Democratic strategist Paul Begala answers "Yes," when CNN's Wolf Blitzer asked if President Obama has given up on North Carolina. A highlight from the interview is after the jump.
CNN will air the final debate between President Obama and Gov. Romney tonight with special coverage beginning at 7 p.m. Leading the network's coverage of the foreign policy-focused debate will be: Wolf Blitzer, Anderson Cooper, John King and Fareed Zakaria in Washington; Candy Crowley inside the debate hall in Boca Raton, Florida; and Soledad O'Brien from the University of Central Florida in Orlando, where she will host a group of undecided voters. On hand throughout the evening's coverage to provide expert analysis will be: Gloria Borger, David Gergen, Alex Castellanos and Van Jones in Washington; and James Carville and Ari Fleisher inside the debate hall with Crowley.
—
Please credit all usage of the information to CNN's The Situation Room with Wolf Blitzer
Highlight from Full Interview
THIS IS A RUSH FDCH TRANSCRIPT. THIS COPY MAY NOT BE IN ITS FINAL FORM AND MAY BE UPDATED
WOLF BLITZER, HOST:  One quick question to you, before I let both of you go — but you're not going too far.
The president's campaign announced he's going to begin a six state campaign tour over the next couple of days, after the debate — Iowa, Colorado, Nevada, Virginia, Ohio.
Has he given up on North Carolina?
PAUL BEGALA, CNN POLITICAL CONTRIBUTOR, DEMOCRATIC STRATEGIST:  Yes.
(LAUGHTER)
BEGALA:  I know I'm not supposed to say that, Wolf, but I don't — I — I work for the, as you mentioned, the pro-Obama super PAC.  So I'm being paid to help reelect the president.
But if you look at where he's going and where he's spending money, yes, it looks like Governor Romney is — is likely to carry North Carolina.  But those other six or seven states, I think all of them, I haven't seen one poll in those states that show Romney leading — or certainly not leading outside the margin of error.  And I've seen polls that show Obama leading in all of them.
(OTHER SPEAKERS)
BEGALA:  Which is amazing.  Romney is going to lose the state he was born in, the state he was governor in…
BLITZER:  All right, all right.  We've got — we've heard that…
BEGALA:  — and one of the states where he has a mansion in California.
###