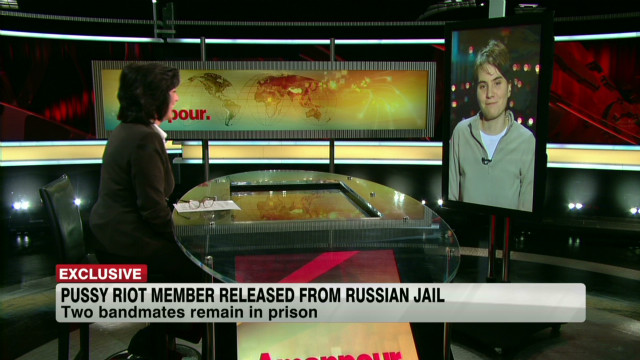 CNN
October 11th, 2012
Freed Pussy Riot bandmate to Christiane Amanpour: 'We are not finished'
CNN's Christiane Amanpour interviewed Yekaterina Samutsevich of the Russian punk band Pussy Riot, shortly after her release from prison.  Samutsevich discusses her detention for her band's protest performance earlier this year, described her treatment while in prison, and vowed to not give up fighting for the release of her bandmates, who remain imprisoned:
AMANPOUR:  What was the aim of Pussy Riot with this protest?  Was it anti-church?  Was it hate speech?  What was it you were doing?
SAMUTSEVICH (through translator):  The — of course, no way did we try to express our hatred.  We wanted to express our criticism of the actions of Patriarch Kirill and a few other officials of the Russian Orthodox Church.  The hierarchy of the Russian Orthodox Church.  We believe that we live in a secular state.  And in this state, the principles of secular society should be respected.  The representatives of the church should not interfere with the politics of the country.
AMANPOUR:  So you were specifically protesting the church's support for a third Putin term?
SAMUTSEVICH (through translator):  Yes.
AMANPOUR:  So what is your message now to President Putin?  Are you finished with protests?  Does this end your action, your political action?
SAMUTSEVICH (through translator):  No, of course not.  We are not finished, nor are we going to end our political protests.  We do have a criticism.  All of that remains in force.  The situation in the country has deteriorated since our performance.  And the trial itself is a testimony of that.  There were certain violations that point to the problem.
The full transcript for this interview will be posted here.
Amanpour airs weekdays on CNN International at 3:00pm with a replay at 5:00pm Eastern in the U.S.   In Europe, Amanpour airs on CNN Internatioanl at 21:00 CET, with a replay at 23:00 CET.
###