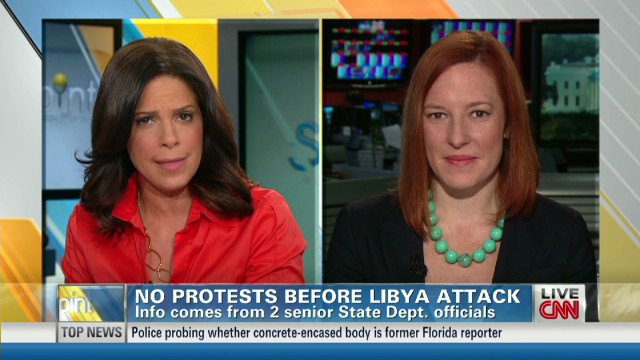 Starting Point
October 10th, 2012
Pres. Obama rep.: Politicizing Libya attack "unfortunate"
President Obama Campaign Traveling Press Secretary Jen Psaki says the administration has fully cooperated with the State Department and Congress regarding the Libya consulate attack. Later in the interview, Psaki explains why the campaign has "blinders on" when it comes to the polls.
Psaki says, "Well, look, I think that's quite a heady accusation from Congressman Chaffetz and I know Mitt Romney and Paul Ryan have been out there making outrageous political accusations as well. The fact is, to the President and to the administration, this is not a political issue. No one wants to get to the bottom of this more than the President. He knew Chris Stevens. He knew the great work he was doing in Libya. He knows how hard our diplomats have been working. And that's why we've been fully cooperating with not only a State Department investigation but fully cooperating with Congress. The fact is, we're providing information – not even me, I don't even work in the administration anymore – but the administration is providing information they had access to at the time. And the intelligence community has come out and said that this was an organized act of terrorism. But for us, it's not political. For the President, it's not political. And it's unfortunate it's being brought to that."
Starting Point with Soledad O'Brien airs weekday mornings from 7-9am ET on CNN.