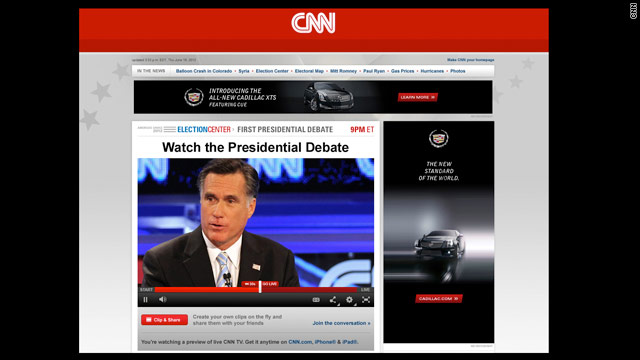 CNN Live
September 28th, 2012
CNN Digital Offers Interactive Live TV Broadcast for Presidential Debates
For four nights in October CNN will present its live TV broadcast and offer unrestricted access to the network's presidential debate programming through CNN.com and via CNN's apps for iPhone and iPad. From 7 PM to midnight, October 3, 11, 16 and 22, anyone with an internet or mobile connection can view CNN TV's news, analysis and live coverage. In addition, viewers watching the debates on CNN.com can capture and share live TV video clips on the fly and share them within their social media circles using new "clip-and-share" editing features.
"Presidential debates shouldn't be a passive activity for viewers. The issues and policy addressed on stage will impact every American — and the world," said KC Estenson, SVP of CNN Digital. "Because of their global significance, CNN will offer the stream to all cnn.com users and provide everyone the opportunity to view, share and participate in the debates this fall."
The first news organization to offer cable, satellite and Telco subscribers its 24-7 television networks through the Web, CNN will tap the same technology to live stream 5 hours of programming each night of the debates. The digital offerings will introduce a whole new audience to the ways they can stay connected with CNN wherever they are.
Displayed in a brilliant 768 x 432 HD video player, complete with closed captioning, CNN's full coverage will air on CNN.com/debates. The technology will also enable anyone who begins watching the debate after it begins to 'start-over' from the beginning. A truly interactive destination, CNN.com/debates will feature companion content including a live blog, on-demand videos and articles, candidate profiles, social media integrations and a Social Buzz meter.
On October 3, CNN.com will also debut new clip-and-share video editing features. With DVR-like controls, clip-and-share makes everyone a CNN editor. Users can quickly fast-forward and rewind to the perfect start and end points to create powerful video clips, straight from the live feed. Clips can be shared with friends and followers directly through Facebook and Twitter. Once shared to these social circles, users can watch back the moments and create a direct URL or embed code for blogs and websites, and share their must-see moments via email, LinkedIn, or Google+.
"The CNN.com debate hub will independently offer users a rich and quality viewing experience," said Alex Wellen, VP CNN Video Products and Business. "But it's also an ideal companion technology for those watching a traditional TV because it provides the opportunity for interaction, further investigation and deep analysis. It really is a glimpse into the future of television."
About CNN
CNN Worldwide, a division of Turner Broadcasting System, Inc., a Time Warner Company, is the most trusted source for news and information. For more than 5 consecutive years, CNN Digital has remained No. 1 in mobile news with an average of more than 21 million unique visitors per month. CNN's applications for iPhone, iPad, Nokia, Windows 7 phone, and Android phone & tablet have been downloaded more than 22 million times to date. With nearly 6 million followers of @CNN, 8.5 million @CNNBRK followers, and more than 30 million followers across all network handles, CNN is the most followed news organization on social media and has more followers than any other cable brand.
For more information, visit www.CNNPressroom.com.
###
Contacts:
Matt Dornic        New York                                            443.414.1393                      matt.dornic@turner.com
Erica Puntel        Atlanta                                                 404.827.1657                      erica.puntel@turner.com