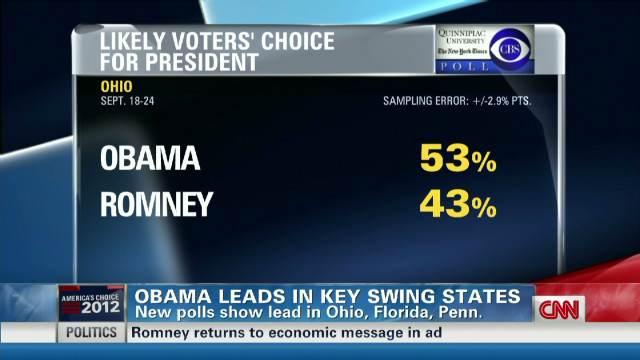 John Berman
September 26th, 2012
Giuliani: "Obama is ahead" of Romney; criticizes foreign policy record as "not working"
Former Mayor Rudy Giuliani says President Obama is leading Mitt Romney in the race right now, but criticizes the administration's foreign policy record as "not working."
Giuliani says, "I believe that Obama is ahead. If I were the Obama campaign, I'd feel a little better than the Romney campaign. I feel like we're ahead. Things are working. But, boy, I'd be nervous as heck that we've got four debates, three presidential debates, and we've got a Mideast, that who knows what's going to happen next. The simple fact is, the Obama approach to the Mideast is not working. Iran, now, has three times more enriched uranium since the day that President Obama came into office. His whole approach to Iran is not working. Egypt is trying to put Sharia law into the constitution. Three guys walked out of the Parliament yesterday because they're worried that Egypt's going to become a Sharia state. An American ambassador is killed for the first time since Jimmy Carter. We've had thirty, forty demonstrations against America."
He continues, "[President Obama] made a lot of the wrong bets. Get rid of Mubarak, get rid of Gadhafi."
When CNN Anchor John Berman asks to clarify his remarks, Giuliani answers, "I probably agree with Hillary Clinton. That Mubarak should've been moved out much more carefully, with much more emphasis on what comes after Mubarak."
CNN Contributor Ryan Lizza disagrees that the United States could've had more influence over the Egypt uprising and subsequent elections.
Later on in the interview, Giuliani addresses Iran and Israel relations. He says, "What I expect from my president… is to sit down with the leader of the country that's most affected by [the possibility of Iran developing a nuclear weapon]. Probably our greatest ally over the last 30-40 years. I don't care if you like Netanyahu or you don't…. I would sit down with Netanyahu, and I would have an eye to eye conversation with him. This man has to make a critical decision…. I would let him know the red line if there is a red line."
Giuliani says that he doesn't think President Obama should publicly declare what the red line is. Berman and the Starting Point panel tell him that his belief does not agree with Mitt Romney's stance.
Starting Point with Soledad O'Brien airs weekday mornings from 7-9am ET on CNN.