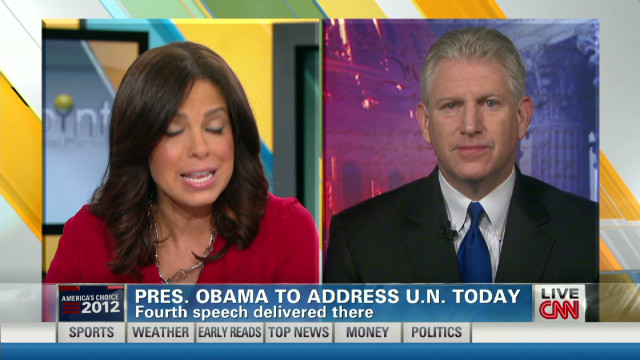 Elise Labott
September 25th, 2012
Robert Wexler: US/Israel cooperation 'historic'
S. Daniel Abraham Center for Middle East Peace President and former Congressman Robert Wexler, CNN Anchor Soledad O'Brien and CNN Foreign Affairs Reporter Elise LaBott discuss President Obama's foreign policy record and U.S. relationship with Israel.
Wexler says, "Prime Minister Netanyahu has called the cooperation between the United States and Israel historic. President Shimon Peres, the beloved the president of Israel, has in fact raved about the relationship between President Obama and the state of Israel. Israel's most decorated soldier, its defense minister, Ehud Barak, has done that."
O'Brien says, "If you were to take a look at comments over the past, let's say three months, that would not be the tone, certainly, for Benjamin Netanyahu."
LaBott adds, "Well, I think that this is the whole thing about maybe why President Obama isn't meeting with any world leaders because he does want to meet with Prime Minister Netanyahu. I mean, he has heard some real tough criticism from Prime Minister Netanyahu about not setting so-called red lines from Iran. What it would take to get the U.S. involved in military action. And he wasn't inclined to give the prime minister a hearing, after hearing that. So, he said I'm not going meet with anybody. I'm not going to meet with Prime Minister Netanyahu."
Starting Point with Soledad O'Brien airs weekday mornings from 7-9a ET on CNN.