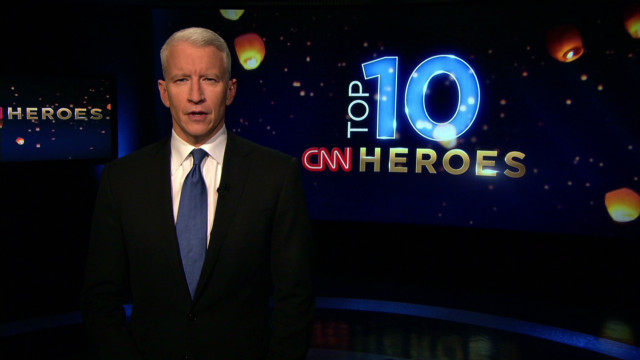 CNN Press Releases
September 20th, 2012
CNN Announces The Top 10 CNN HEROES of 2012
Worldwide Voting for "CNN HERO OF THE YEAR" Begins Today on CNNHeroes.com and On Mobile
CNN Heroes: An All-Star Tribute, Hosted By CNN's Anderson Cooper, Airs Sunday, December 2
New this year: CNN and The Annenberg Foundation Collaborate to Provide Hands-On Support to 2012 Top 10 CNN Heroes
CNN announces today at 12:00 noon ET the Top 10 CNN Heroes of 2012, individuals who are making extraordinary contributions to improve the lives of others. Each Top 10 CNN Hero will receive a $50,000 grant to further their work, and one will be named "CNN Hero of the Year" during the live broadcast on Sunday, Dec. 2.
Online voting for "CNN Hero of the Year" opens today at 12:00 noon ET, and will run through Wednesday, November 28, at Midnight PT. Voters can log on to CNNHeroes.com – online or on their mobile devices- to cast ballots for their favorite Top 10 Heroes up to 10 times a day, every day. Votes can also be shared on Facebook and Twitter. The Hero with the most votes will be named "CNN Hero of the Year," and receive an additional $250,000 grant.
Hosted by Anderson Cooper from the Shrine Auditorium in Los Angeles, the Peabody Award-winning, Emmy-nominated broadcast CNN Heroes: An All-Star Tribute will air live on Sunday, December 2, 2012 at 9pm ET/6pm PT on CNN, CNNi and CNN en Espanol. Presenters and musical guests will be announced at a later date.
This year, a new dimension will be added to the prize package for the 2012 Top 10 CNN Heroes. The Annenberg Foundation, a leading supporter of nonprofits worldwide, will help selected CNN Heroes further their work. They will receive free training by The Annenberg Foundation with a customized version of its Annenberg Alchemy program, which provides practical guidance for nonprofit leaders in fundraising, communications, management of volunteers, and strategies to build and keep a strong board of directors.
Now in its sixth year, the CNN Heroes initiative has received more than 45,000 nominations from more than 100 countries and profiled over 180 everyday heroes doing extraordinary work.
The Top 10 CNN Heroes for 2012, whose profiles are available to view on CNNHeroes.com are:
· Pushpa Basnet (Kathmandu, Nepal) Shocked to learn that children were living in Nepali prisons with their parents, Pushpa Basnet started the Early Childhood Development Centre when she was only 21. Since 2005, she's provided support like housing, education, and medical care to more than 140 children of incarcerated parents.
· Wanda Butts (Toledo, OH) In America today, African-American and Latino children are nearly three times more likely to drown than white children. This statistic became tragically real to Wanda Butts when she lost her 16 year-old son, Josh in a drowning accident six years ago. But, she turned her grief into action by giving all children in her community the opportunity to learn how to swim. In memory of her son, she created the Josh Project, a non-profit swimming and water safety organization that targets minorities. To date, The Josh Project has taught this life-saving skill to nearly 1,200 children in Toledo, Ohio.
· Mary Cortani (Gilroy, CA) Of the more than 2 million U.S. troops deployed to Iraq and Afghanistan, it's estimated that one in five of them is likely to have PTSD or major depression. Veterans with these invisible wounds experience flashbacks, nightmares and an enhanced state of anxiety and withdraw from society to avoid sights and sounds that remind them of war. Mary Cortani is helping some of them return to normal life again. A former U.S. Army dog trainer who matches veterans with dogs – many from shelters or rescue groups – now guides them on a new mission: train your own service dog. In the last two years, she and her nonprofit, Operation Freedoms Paws, have worked with more than 80 veterans.
· Catalina Escobar (Bogota, Columbia) In Colombia, nearly one in five girls, ages 15 to 19, are pregnant or already mothers. Catalina Escobar's life was forever changed when a newborn whose teen mother couldn't afford his medical care died in her arms and just days later her own son died in an accident. Escobar turned her pain into a mission to decrease Cartagena's infant mortality rate and pave a brighter future for teen mothers and their children.
· Razia Jan (Kabul, Afghanistan) Terrorists will stop at nothing to keep Afghan girls from receiving an education. The U.N. has documented dozens of attacks on schools attributed to armed groups opposed to girls' education. Despite the threat of violence, Razia Jan and her team are providing a free education to about 350 girls in rural Afghanistan, many of whom would have no other access to school.
· Thulani Madondo (Kliptown, South Africa) Since apartheid ended, Thulani Madondo hasn't seen much improvement in the Kliptown, South African slums in which he grew up. Today, this 30-year old is empowering his community's next generation through his Kliptown Youth Program by providing academic support, meals and activities to 400 children.
· Leo McCarthy (Butte, MT) In response to his daughter Mariah's death at the hands of an underage drunk driver, Leo McCarthy fights the notorious culture of drinking in Butte, Montana by issuing a challenge to all teens: Stay away from alcohol until you reach 21 in exchange for a college scholarship. To date, his organization, Mariah's Challenge, has given away nearly $150,000.
· Connie Siskowski (Boca Raton, FL) Across the United States, there are 1.3 million children, ages eight to 18, who care for an aging, ill or disabled family member. Since 2006, Connie Siskowski and her non-profit, the American Association of Caregiving Youth, have helped bring this hidden population to light, providing support to more than 550 kids in Palm Beach County who are at greater risk of dropping out of school to take care of loved ones.
· Scott Strode (Boulder, CO) For most of his teens and early twenties, Scott Strode abused drugs and alcohol. When he realized at age 24, that his addictions were out of control, he finally got clean, and sought a new social circle and activities that would help maintain his sobriety. Scott found what he needed at the gym, and eventually became a triathlete and mountain climber. In 2007, he decided to help others enjoy this healthy 'high.' He started Phoenix Multisport, a nonprofit that provides free athletic activities and a sober support community to more than 6,000 participants in Colorado.
· Malya Villard-Appolon (Port-au-Prince, Haiti) Rape survivor Malya Villard-Appolon has helped turn rape from the silent tragedy that it has historically been in Haiti, into a crime in which the victims no longer feel voiceless or unprotected. Her organization, KOFAVIV, helps victims of sexual violence seek justice. The group has established advocacy and prevention tools throughout the troubled country, including in 22 tent cities where earthquake victims are especially vulnerable. Amidst regular death threats to this single mother of six, Malya and KOFAVIV have helped more than 4,200 rape survivors, including the youngest victim, a 17-month-old baby.
For the latest info about the Top 10 CNN Heroes, viewers and online users are encouraged to visit the CNN Heroes page on Facebook, follow @CNN Heroes on Twitter and use the hashtag #CNNHeroes. Additionally, behind-the-scenes CNN Heroes images can be viewed on CNN Heroes' Instagram account. GetGlue users can check-in to CNN Heroes for exclusive limited-edition stickers of the Top 10 CNN Heroes.
"CNN is extremely proud to shine a spotlight on these 10 extraordinary people who give so much of themselves to improve the lives of others. To further help them in their altruistic missions, we are happy to collaborate with The Annenberg Foundation. And now with expanded social media opportunities, voters can become even more engaged in the stories and lives of this fascinating group," said Kelly Flynn, Senior Executive Producer, CNN Heroes initiative and CNN Heroes: An All-Star Tribute.
CNN Worldwide, a division of Turner Broadcasting System, Inc., a Time Warner Company, is the most trusted source for news and information. Its reach extends to nine cable and satellite television networks; one private place-based network; two radio networks; wireless devices around the world; CNN Digital Network, the No. 1 network of news Web sites in the United States; CNN Newsource, the world's most extensively syndicated news service; and strategic international partnerships within both television and the digital media.
About The Annenberg Foundation
The Annenberg Foundation is a family foundation that provides funding and support to nonprofit organizations in the United States and globally. Since 1989, it has generously funded programs in education and youth development; arts, culture and humanities; civic and community life; health and human services; and animal services and the environment. In addition, the Foundation and its Board of Directors are directly involved in the community with several projects that expand and complement its grant support to nonprofits. Among them are Annenberg Alchemy, Learner.org, Annenberg Space for Photography, Explore, GRoW and the Metabolic Studio. The Annenberg Foundation exists to advance public well-being through improved communication. As the principal means of achieving this goal, the Foundation encourages the development of more effective ways to share ideas and knowledge.