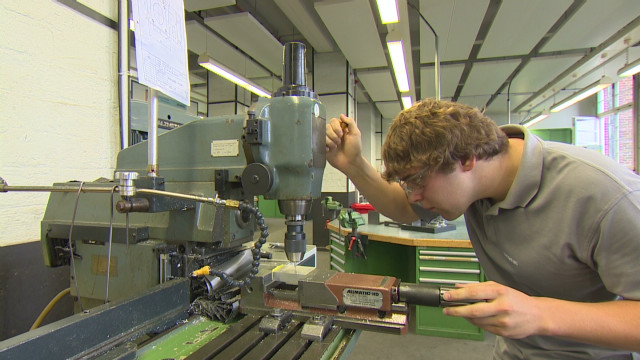 Fareed Zakaria
September 18th, 2012
Fareed Zakaria Looks for Solutions for Growing Jobs in Political Special
Global Lessons: Putting America to Work debuts Sunday, Sept. 23, 8:00pm ET & PT
The 2012 American presidential election will pivot on the health of the economic recovery, which most people view in terms of improved jobs numbers.  Economic experts now predict it may take as long as 60 months for America to return to pre-2008 employment levels.  CNN's and TIME's Fareed Zakaria describes this lengthy "jobless recovery" as part of a trend for the U.S. economy since the 1990s – as globalization and advancements in technology make it easier to do work by machines, and less expensive to produce goods overseas.
Zakaria takes viewers on a virtual tour of Germany, the Netherlands, South Korea, and Dubai for solutions to what may solve the American jobs crisis.  And, in the U.S., he shows people leveraging creative ideas to grow jobs in the construction, nanotech, and manufacturing sectors in Charlotte, NC, Chicago, IL, and Albany, NY.
Global Lessons: Putting America to Work debuts Sunday, September 23 at 8:00pm and 11:00pm ET & PT on CNN/U.S. and on CNN International on Sunday, October 06 at 9:00pmET.
In Charlotte, NC, Zakaria examines a pilot program by the German company Siemens for apprenticeships at a U.S. plant.  Apprentices are not only paid factory workers – they also enjoy free college tuition.
"Here in the U.S., our patchwork system of job training programs is why we have 3.5 million job openings left unfilled," Zakaria says in the documentary.  And cultural perceptions of success may also inhibit wide scale applications of apprenticeships.
Nearly two-thirds of young Germans participate in the nation's centuries-old apprentice program: companies, trade unions, vocational schools, and the government collaborate to pair new workers with job training at businesses that may eventually hire them.  Paid apprenticeships combine classroom instruction with professional internships – and apprentices are matched to jobs in fields as diverse as baking to nuclear technology, and the skills are transferrable.  The result is a more resilient German workforce than its industrialized peers: the youth unemployment rate in Germany is less than half that in America, and German unemployment rates decreased, and its economy grew, even during the height of the global economic downturn.
With a take on how societies can manage mature worker employment, Zakaria looks to Frans van Houten, Philips CEO, and Prof. Ton Wilthagen at Tilburg University to illustrate the Dutch policy of "Flexicurity."  In the Netherlands, companies with redundant workers fund "mobility centers" that helps workers maintain transferrable skills.  It helps that some 50 percent of Dutch prefer to work part time, so there are more jobs to go around.  Companies share the burden of labor costs during times of slowed economic growth.  Despite the aging Dutch workforce, Flexicurity has allowed the economy to remain productive and kept unemployment low, but some companies are beginning to resist the relatively high cost of worker benefits required for permanent employees, compared to other countries.
Zakaria next tackles the taboo subject of federal subsidies with Michael Lind, co-founder of the New America Foundation.  South Korea took its share of the ship-building industry from less than 10 percent to becoming the global number 1 shipbuilder in the world, after government investment.  Simultaneously, the elimination of U.S. Defense Department subsidies of the industry in the 1980s has lead to the near elimination of the industry in America.
But, picking winners in losers sometimes ends in cases like that of Solyndra – where tax payers can lose if the company fails.  Albany has taken a shared risk approach – over 300 companies have located at least a portion of their nanotech development presence in the area.  The corporate investment follows New York State's investments the State University of New York in the 1980s to develop high tech research facilities that the companies now also invest in for future worker training.
Chicago Mayor Rahm Emanuel (D) believes a return to U.S. investment in the nation's infrastructure as key to immediate unemployment, municipal modernization, and attracting more corporate investment.  He urged passage of the Chicago Infrastructure Trust, funded with private capital.  City funds are saved, and investors bear the risk with the hopes they may be able to reap financial returns in the future on the interest, among other things.
Finally, to explore ways to boost the tourism industry – perhaps the only industry impossible to outsource – Zakaria speaks with Frits van Paasschen, CEO of Starwood Hotels and Resorts Worldwide.
In his analysis, Zakaria argues that the U.S. needs to streamline regulations and lower corporate tax rates.  At the same time he notes, the high tech skills gap can only be addressed by addressing the factors that have caused the U.S. to slip badly in higher education, infrastructure investment, and fixing our broken visa system for workers and tourists.
Global Lessons: Putting America to Work will replay on Saturday, September 25 at 8:00pm and 11:00pm ET and PT on CNN/U.S.  Zakaria's two previous 2012 election year specials included a primetime special on health care in March and one on immigration in June.  A special examining the politics of energy will air in October.
Digital resources with more information on ideas for growing U.S. jobs will be explored in-depth at www.cnn.com/gps.  The site will include links to Zakaria's TIME column as well as that from other contributors, and also video content for this special, and that for the final documentary in this political series, which will focus on energy.
Maite Amorebieta and Dan Logan produced this edition of Global Lessons.  Tom Goldstone is the executive producer for the FAREED ZAKARIA GPS unit and for the four-part 2012 Global Lessons series, including this special.
CNN Worldwide, a division of Turner Broadcasting System, Inc., a Time Warner Company, is the most trusted source for news and information. Its reach extends to nine cable and satellite television networks; one private place-based network; two radio networks; wireless devices around the world; CNN Digital Network, the No. 1 network of news Web sites in the United States; CNN Newsource, the world's most extensively-syndicated news service; and strategic international partnerships within both television and the digital media.
-30-