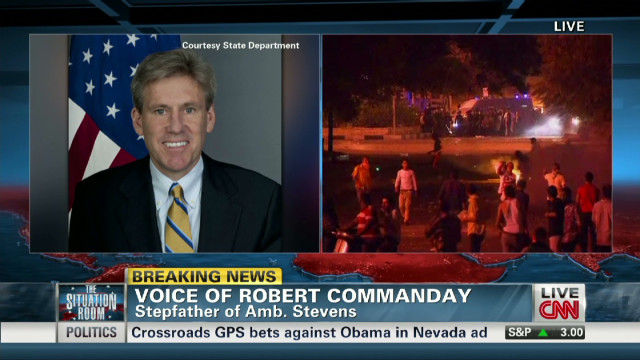 The Situation Room with Wolf Blitzer
September 12th, 2012
Amb. Christopher Stevens' stepfather talks with CNN about his son
U.S. Ambassador to Libya Christopher Stevens' stepfather, Robert Commanday spoke with CNN's Wolf Blitzer about the death and legacy of his son. A full transcript from the interview is after the jump.
Please credit all usage of the information to CNN's The Situation Room with Wolf Blitzer
Full Transcript from Interview
THIS IS A RUSH FDCH TRANSCRIPT. THIS COPY MAY NOT BE IN ITS FINAL FORM AND MAY BE UPDATED
WOLF BLITZER, CO-HOST:  All right, Mr. Ambassador, as we show these pictures, I want to bring in right now the stepfather of the slain U.S. ambassador, Christopher Stevens. Robert Commanday is joining us on the phone right now.
Our deepest, deepest condolences to you, Robert.
ROBERT COMMANDAY, STEPFATHER OF AMBASSADOR STEVENS:  Thank you.
BLITZER:  When you see what's going on right now, and obviously, you loved your step — your stepson, give us a thought or two about what's going on with your family and how you're — you're dealing with all of this.
COMMANDAY:  It's — it was a terrible shock at 11:00 last night.  We happened to have been in the Yosemite at that time.  And I rushed home without any sleep.
And so we're sheltered.  It's — Chris was a beautifully, even-tempered person.  In the 36 years that I was privileged to be his stepfather, I never saw him lose his temper once.
And he was calm and easy.  And people loved him not only for that, but — but because he — he — he didn't impose his ideas on them.  And he was interested in the persons that he was talking to.
And so it was lovely.  And he was a joyous person.
BLITZER:  And he loved the Libyan people.  He loved working there.
He thought he was really doing something, didn't he?
COMMANDAY:  I was really pleased and so surprised, because he was in Tripoli before the rebellion and then he was in Benghazi for six months as the U.S. envoy to the rebels.  And then, when he was sent back to Tripoli as ambassador, he was very happy about it.  You know, he wasn't looking for a soft touch, a — a cushy ambassador's spot.  He — he loved the Libyan people and — and was passionate about helping.
BLITZER:  And — and the Libyan ambassador to the United States, very quickly, Mr. Ambassador, just wants to express his condolences, as well.
Give a — go ahead, Mr. Ambassador.
ALI AUJALI, LIBYAN AMBASSADOR TO THE U.S.:  Yes, Robert, my apology and my con — deep condolence to you and to your family.  Chris, he is a brother to me.  He is a — a champion in the eyes of the Libyan people.  He's the man who stands by the revolution, by to support the Libyan people in a very difficult time.
BLITZER:  And our deepest condolences, Robert Commanday, as well.
Thank you so much for all — everything that Ambassador Stevens did for the American people.
Mr. Ambassador, thanks to you, as well.
###