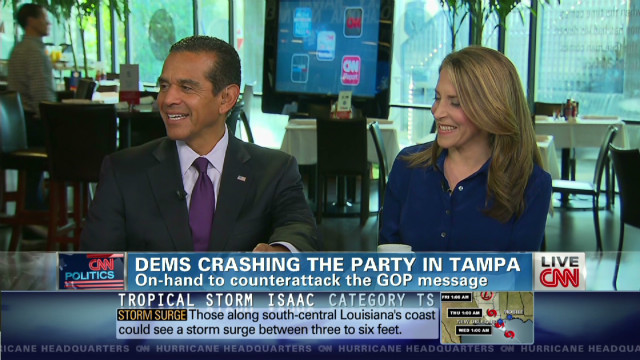 John Berman
August 28th, 2012
Mayor Villaraigosa: Pres. Obama will get "close to 70% of the Latino vote"
Los Angeles Mayor Antonio Villaraigosa (D) talks to CNN Anchor John Berman live at the CNN Grill during the RNC Convention in Tampa about Tropical Storm Isaac, 2012 race and the Latino vote.
Mayor Villaraigosa says, "I think when it's all said and done that President Obama is going to get somewhere close to 70 percent of the Latino vote. I think he is because the Republican Party and Mitt Romney have gone so far to the right on issues that are important to them. And it's not just immigration where he's talked about the self-deportation of 11 million people and called the dream act a handout. It's also health care. Nine million Latinos will benefit from the Affordable Care Act. It's also the cuts to education that will come with the Romney-Ryan plan."
Starting Point with Soledad O'Brien airs weekday mornings from 7-9am ET on CNN.