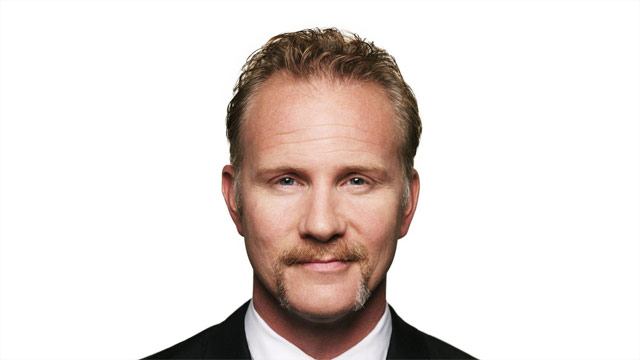 CNN Press Releases
August 23rd, 2012
CNN Announces Morgan Spurlock as Second, Original, Non-Fiction Series to Air on Weekends
"Inside Man" Premieres April 2013 as Companion to Anthony Bourdain Weekend Program
Oscar®-nominated documentary filmmaker, Morgan Spurlock, marks his return to TV as host and producer of the new CNN original series, Inside Man, it was announced today by Mark Whitaker, CNN Worldwide executive vice president and managing editor.
Produced by Warrior Poets, Spurlock's New York-based production company with producing partner Jeremy Chilnick, Inside Man debuts on CNN in April 2013 and will air weekends alongside CNN's new series hosted by renowned chef and author Anthony Bourdain.
Each week Spurlock will provide an insider's view into rarely-seen sectors of American life that include gun lovers, marijuana growers, migrant farm workers, and end-of-life caregivers.
"Morgan Spurlock's name has become synonymous with creative and thought-provoking documentary story-telling," said Whitaker. "Like Anthony Bourdain's new CNN series, Inside Man will carry the distinctive stamp of its host while taking viewers on colorful and informative journeys into fascinating corners of American society."
An acclaimed documentary filmmaker, Spurlock came to international prominence in 2004 with his Oscar® nominated film Super Size Me. He made his first foray into television as executive producer of the FX series 30 Days (2005-2008). Most recently, he has served as executive producer of the documentary series A Day in the Life on Hulu and the Yahoo spinoff of the feature-length documentary Mansome, as well as director of the films, Comic-Con Episode IV: A Fan's Hope, Mansome, and The Dotted Line for ESPN.
"We have wanted to make a smart, challenging and entertaining network show for the past few years and we couldn't have found a better partner to accomplish that with than CNN," Spurlock said. "I am energized by this opportunity and am thrilled to be bringing this show to the network."
Warrior Poets, the New York based production company founded in 2004 by Morgan Spurlock, has produced multiple award winning films and television programs. Films include The Greatest Movie Ever Sold, Freakonomics, Where in the World is Osama bin Laden?, Comic-Con: Episode IV – A Fan's Hope, and Mansome. Television projects include the award winning FX series 30 Days; ESPN's The Dotted Line; the Emmy and Writer's Guild nominated Fox TV special The Simpsons 20th Anniversary Special in 3D on Ice!; Hulu's A Day in the Life; Failure Club and Mansome on Yahoo!; and Morgan Spurlock's New Britannia for Sky Atlantic HD.
CNN's newly-created Talent and Development department is overseen by Whitaker. Amy Entelis is the executive in charge of recruiting and developing talent, developing new programming and overseeing acquisitions strategy for CNN, HLN and other CNN platforms. Vinnie Malhotra oversees program development and acquisitions with external production companies for CNN and HLN. Since its inception in January 2012, the department has announced the additions of world-renowned chef, author and television personality Anthony Bourdain as host of a weekend program on CNN beginning in 2013, veteran news correspondent John Berman as co-anchor of Early Start, and respected journalist Victor Blackwell. Inside Man is the second non-fiction, original series to be developed by CNN.
CNN Worldwide, a division of Turner Broadcasting System, Inc., a Time Warner Company, is the most trusted source for news and information. Its reach extends to nine cable and satellite television networks; one private place-based network; two radio networks; wireless devices around the world; CNN Digital Network, the No. 1 network of news Web sites in the United States; CNN Newsource, the world's most extensively-syndicated news service; and strategic international partnerships within both television digital media.
Contact:
Barbara Levin        Barbara.levin@turner.com         212-275-8152
Karen Reynolds     Karen.reynolds@turner.com      212-275-8253